Republicans Will Secure at Least 52 Senate Seats: Sen. Rick Scott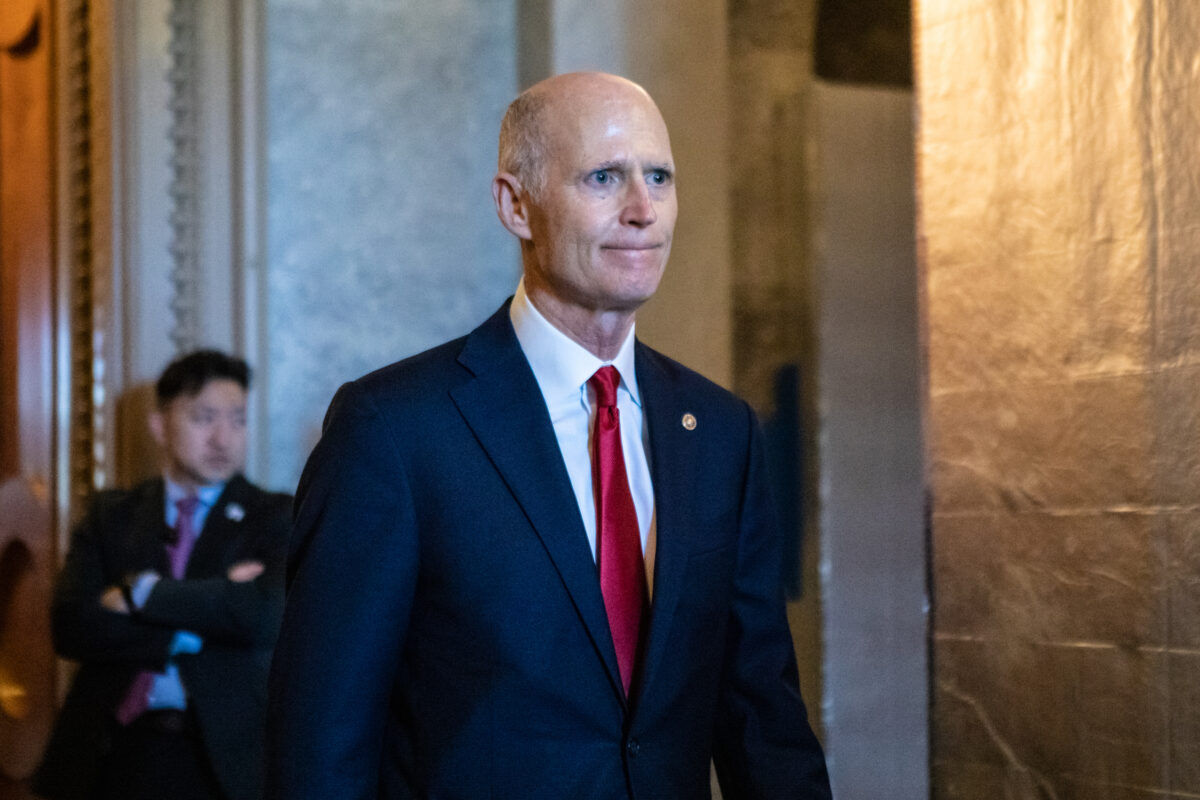 Sen. Rick Scott (R-Fla.), chairman of the Senate Republicans' campaign arm, said on Oct. 2 that the Republican Party will take back the Senate in November.
"My effort right now is on the hurricane relief for this hurricane, but absolutely I think we're at 52 seats-plus," Scott told NBC's "Meet the Press" on Sunday. "If you look at Biden's numbers, they're really bad. People have rejected the Biden agenda. We have great candidates. The Democrats have to defend what Biden has done."
Scott added, "I think it will be a good November for Republicans, but we have to keep working hard every day."
With the midterm elections about a month away, the balance of the Senate could come down to a few states. In Wisconsin, incumbent Sen. Ron Johnson (R-Wis.) has taken the lead over Democrat Senate candidate and Lt. Gov. Mandela Barnes, according to the latest polls.
In Pennsylvania's Senate race, GOP nominee Mehmet Oz has pulled into a statistical tie with Democrat nominee and Lt. Gov. John Fetterman, according to the latest poll from the Emerson College/The Hill survey. The two are contending for the seat vacated by retiring Sen. Pat Toomey (R-Penn.).
GOP senate candidates in Arizona and New Hampshire are trailing their Democrat opponents. According to a recent Suffolk University/Boston Globe poll (pdf), incumbent Sen. Maggie Hassan (D-N.H.) held an 8.4 percentage-points lead over GOP candidate Don Bolduc in the Granite State. Meanwhile, incumbent Sen. Mark Kelly (D-Ariz.) was backed by 49 percent of likely voters, leading GOP candidate Blake Masters by 6.8 percentage points in Arizona's Senate race, according to a recent Suffolk University/Arizona Republic poll (pdf).
Scott and Sen. Gary Peters (D-Mich.), chairman of the Democratic Senatorial Campaign Committee, recently told Politico that Nevada and Georgia are the key battlegrounds for the Senate majority.
"If you look at the polls, Nevada and Georgia are the two logical ones," Scott told NBC.
Peters said to the outlet, "I've been saying that Georgia, Nevada are gonna be real close races."
Incumbent Sen. Catherine Cortez Masto (D-Nev.) is facing GOP nominee Adam Laxalt in Nevada's Senate race, while incumbent Raphael Warnock (D-Ga.) is facing GOP challenger Herschel Walker in Georgia's Senate election.
Also, during his interview with NBC, Scott was asked to weigh in on a recent GOP legislation that would create a federal ban on abortions after 15 weeks of pregnancy. The bill, unveiled by Sen. Lindsey Graham (R-S.C.) on Sept. 13, includes exceptions for rape, incest, and saving a woman's life.
In response, Scott said he supports "reasonable" abortion restrictions, adding that there are "arguments to do it at the federal level."
"Right now, all the candidates are taking positions," Scott said. "I'm pro-life, as you know. I think we ought to have reasonable restrictions. I think a lot of people are comfortable with 15 weeks and exceptions for rape, incest, and the life of the mother."
Asked if Graham's bill complicated GOP efforts to win the Senate in November, Scott suggested that Democrats have been pushing the issue of abortion rights.
"Democrats have talked a lot about that this year, so every candidate has been talking about what their position is on abortion," Scott said. "So I think it's important that people tell people what their position is, and it's being done state by state all across the country."
"I don't know if what Lindsey put out changed the conversation, but it is an important issue for the country," Scott added.