RNC: GOP Candidates Will Win If They Focus on Economy, Crime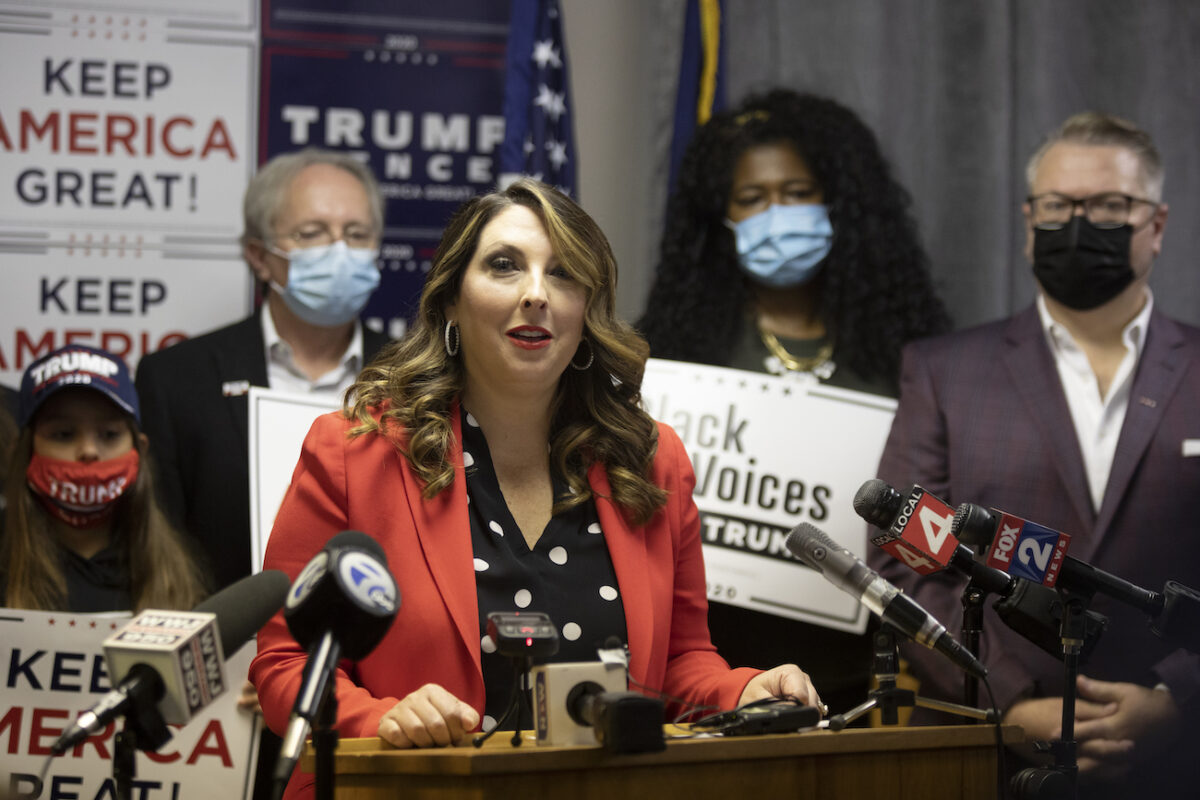 The Republican National Committee on Tuesday urged GOP candidates to focus on the economy and rising crime with just two months to go before the 2022 midterms.
A memo sent out (pdf) by the RNC, dated Sept. 13, wrote that "Democrats and the national media are determined to try and make abortion the top issue ahead of the midterms, however, the media is not on our side, and we do not answer to them but to voters."
Their polling showed that 66 percent of voters blame Biden for their economic struggles. Only 36 percent of voters who blamed things like pent-up demand or corporate greed back Republicans, the RNC said.
"Voters have made clear this election is largely about the economy and crime," the memo stressed, citing a poll that found 55 percent said that "rising prices" are more important than abortion.
"Winning this issue is more nuanced than simply pointing out rising prices and the flailing economy," the memo stated. "Republicans need to finish their sentences to bring along the 20 million voters who are unsure who to blame and the 52 million who blame corporate greed and pent-up demand."
The memo comes as the Dow Junes slumped on Tuesday, with technology shares taking the biggest hit, after data showed monthly consumer prices unexpectedly rose in August. The Labor Department's consumer price index report showed the monthly inflation index gained 0.1 percent in August from July, against an expectation of a 0.1 percent dip.
That came several weeks after Biden signed the Democrat-backed "Inflation Reduction Act" into law, which ostensibly was designed to deal with rising inflation.
Crime
But the GOP leaders stressed that "crime and safety" are also a top issue for voters for the 2022 midterms, saying that a poll found "Republicans led Democrats by 16 points on the issue of crime."
More voters, the memo said, blamed soft-on-crime policies rather than gun laws for rising crime.
Forty-five million voters say the issue of crime will have a major effect on their vote, and 17 million said that it's one of their top issues, the RNC memo added.
"While Biden and out-of-touch Democrats refuse to address the economic peril they created, voters have made it abundantly clear that this election is about the economy and crime," RNC Chairwoman Ronna McDaniel said in a statement about the messaging strategy. "Meanwhile, Republican candidates are meeting voters where they are and discussing the issues they care about, from the economy to crime and safety."
Democratic strategists have noted serious political headwinds amid high inflation and pessimism. Nevertheless, they have claimed Biden has won major legislative victories on key issues.
"Republicans haven't taken advantage of the bad political environment. And they punted on having any agenda or getting anything done," Biden pollster John Anzalone told The Associated Press earlier this month.
"Historically, this should be a 30- or 40-seat win by Republicans," he claimed. "The entire Republican Party has been one big mistake for the past four or five months."
Reuters contributed to this report.