Sen. Sinema Suggests Republicans Will Take the House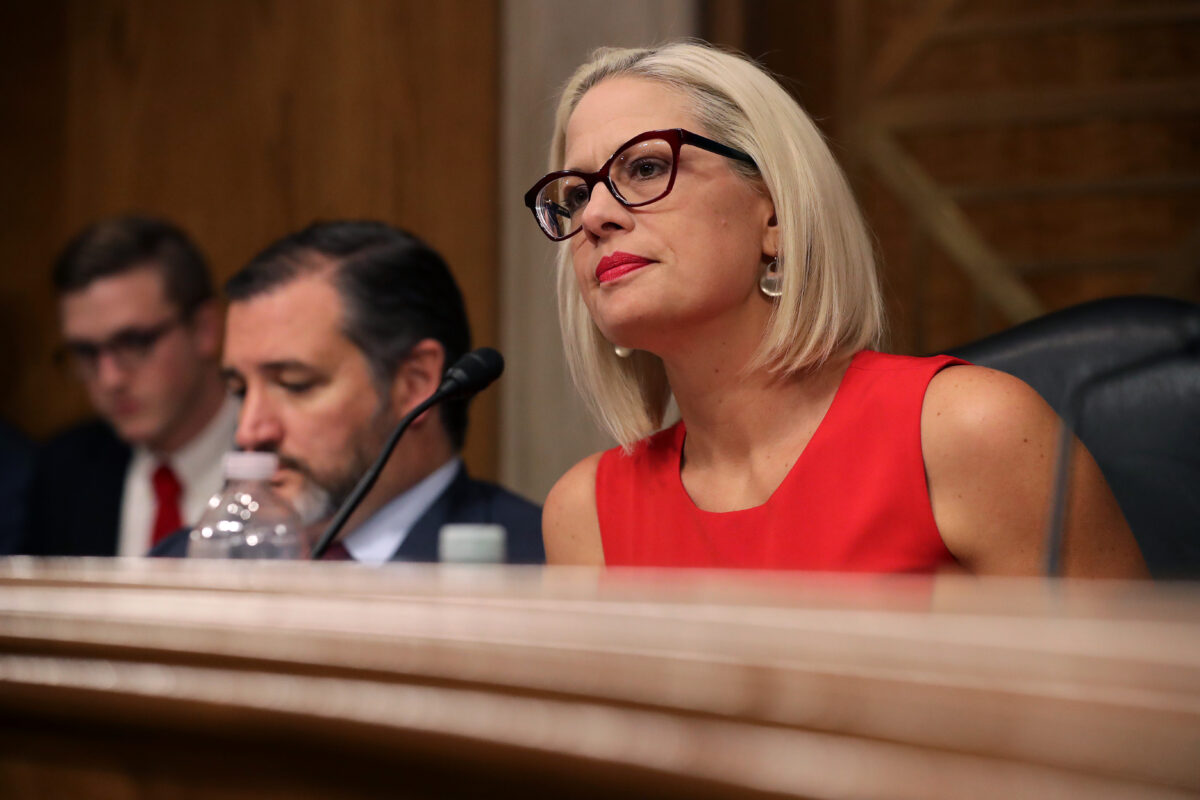 During a rare public appearance to discuss politics, Sen. Kyrsten Sinema (D-Ariz.) suggested that she thinks Republicans will take the House in November.
Sinema's comments, delivered during an address on bipartisanship hosted by Senate Minority Leader Mitch McConnell (R-Ky.) to an audience at the University of Louisville's McConnell Center, align with general predictions by contemporary observers. However, they represent a break with the optimism of Speaker of the House Nancy Pelosi (D-Calif.), who has insisted that her party will hold the lower chamber.
Specifically, Sinema was asked about her continued support for the 60-vote filibuster threshold, which has been disparaged by much of her party as a "relic of Jim Crow racism." But Sinema and moderate ally Joe Manchin (D-W. Va.) have long objected to weakening or destroying the system, leaving Democrats in the evenly-divided Senate with no path forward to break the procedure.
"If you were to eliminate the 60-vote filibuster threshold, the Senate would become like the House," Sinema explained.
"The trouble of that is that the House—with elections every two years, representing a smaller group of voters … they really represent the passions of the moment in the political system," Sinema argued.
Sinema then made an offhanded comment suggesting that Republicans will take the House in November.
"As you all know, control of the House changes every couple of years," Sinema said, adding, "and it's likely to change again in just a couple weeks."
Currently, Sinema's party holds the lower chamber by a slim margin, with Pelosi able to spare only a few defections for any legislative aspiration.
Though Republicans took the House in 2016, since 2018 the Democrat party has been in the majority. After years of working through the ranks of House GOP leadership, House Minority Leader Kevin McCarthy (R-Calif.) is poised to be elected speaker next year, but only if his party performs as expected in the upcoming midterms.
Sinema's comments break with the past optimism of Pelosi, who has suggested on several occasions that despite observer predictions to the contrary, she thinks her party will hold the lower chamber. Pelosi's hopes have especially hinged on the decision in Dobbs v. Jackson Women's Health Organizations, which overturned Roe v. Wade and which Democrats expect to drive turnout among some voters.
But Sinema's prediction is much closer to the standard expectation among observers that Republicans will take control again after November.
Right now, FiveThirtyEight gives Republicans a 71 in 100 chance of retaking the House after four years in the minority.
Prospects in the Senate are more in the air, with Democrats hopeful that they will retain the upper chamber. However, it seems likely that Senate Democrats, if they retain the Senate, may face a divided government moving into the second half of President Joe Biden's first term.