Senate Leadership Fund Announces $28 Million Ad Buy for JD Vance in Ohio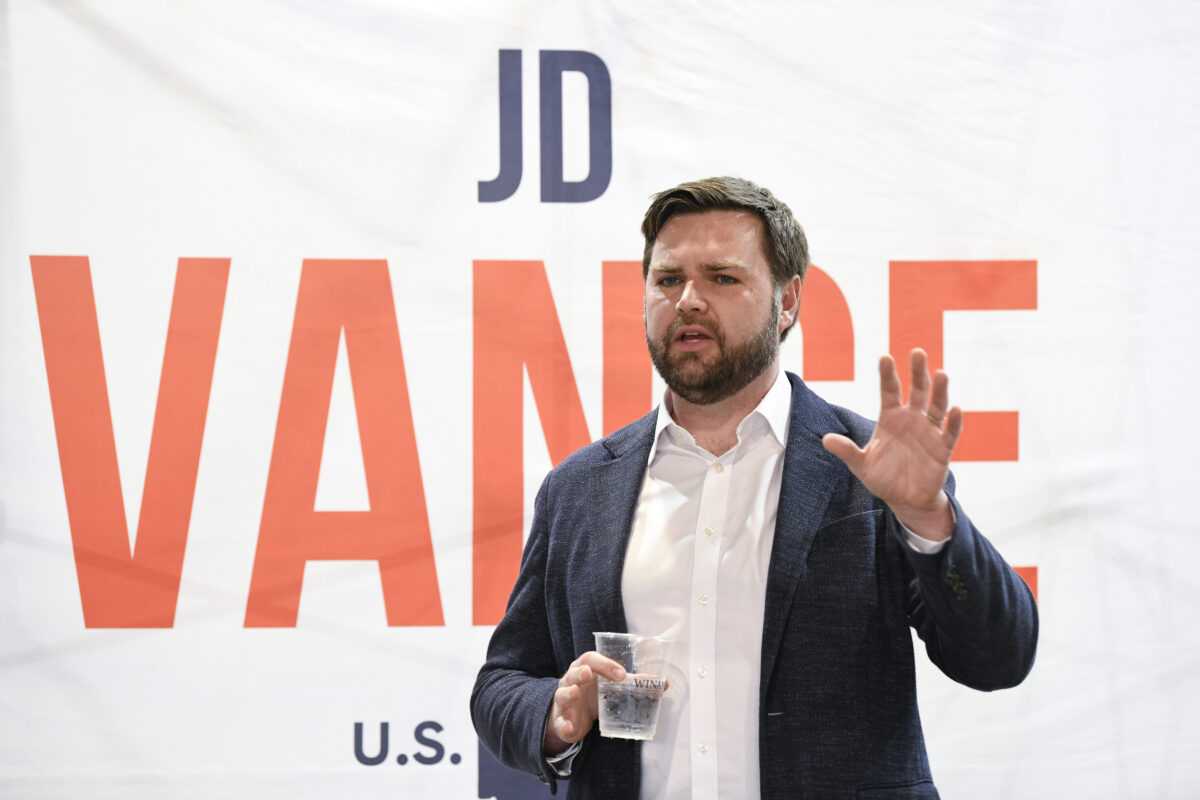 J.D. Vance, the "Hillbilly Elegy" author and Donald Trump-endorsed Republican nominee in the race to replace retiring Sen. Rob Portman (R-Ohio), is getting a cash infusion from a political action committee with close ties to U.S. Senate Minority Leader Mitch McConnell.
The Senate Leadership Fund (SLF) is spending $28 million on TV and radio ads that will air statewide, the organization announced on Aug. 18.
The spots will start on Sept. 6 and run through Election Day, according to an SLC spokesperson.
The Cook Political Report ranks the race as "Lean Republican" while Inside Elections calls it "Solid Republican" and Sabato's Crystal Ball rates it as "Likely Republican." Still, Republican groups across Ohio and the United States have concerns about Rep. Tim Ryan's (D-Ohio) significant fundraising advantage over Vance.
Last month, Vance reported that his campaign bank account had $628,000.
Ryan reported a balance of $3.6 million in campaign cash and $8.6 million in fundraising over the time period of April through June.
Before releasing his official filing, Ryan disclosed that he raised $9.1 million during the second quarter. The figure includes $500,000 he previously raised, according to a pre-primary report.
Since winning the Democratic primary in May, Ryan poured more than $7.5 million into advertising. The unrebutted GOP-friendly ads brand Ryan as a moderate with crossover appeal and Vance as an extremist.
Messaging in the ads has not been announced, but multiple Republican sources have said that an emphasis will be to link Ryan to Biden.
At campaign stops, and in ads and media interviews, Ryan has promoted himself as an independent voice who will work across the aisle and stand up to Democratic party leaders.
President Joe Biden has appeared in Ohio several times this year, and Ryan has not attended those events. Yet congressional voting records show he has voted with Biden 100 percent of the time.
Recently, Ryan voted for Biden's "Inflation Reduction Act," which earmarks $369 billion for climate change efforts, including renewable energy and electric vehicles. It also expands the IRS but does little to immediately address inflation.
The federal plan will devote $10 billion in tax credits for clean technology manufacturing investments, including facilities that make electric vehicles, and $30 billion in tax credits that incentivize U.S. manufacturers to create solar panels and wind turbines.
Ryan said the bill will "make historic investments in domestic energy production and manufacturing that will set our nation on the path to dominate the clean energy industry—all while not raising a penny in taxes on middle-class Americans."
On Aug. 19, Vance joined Florida Gov. Ron DeSantis at a rally in the Youngstown area, where Ryan lives. Vance discussed how Ryan "claims he is for the working people of Youngstown and Ohio" but that he voted for "the Democrats' Inflation Reduction Act, which analysis shows will increase taxes on the middle class."
The bill will impact Americans making less than $200,000, according to the nonpartisan Joint Economic Committee (JEC). The same legislation will provide money to hire 87,000 new IRS agents, Vance pointed out.
"Tim Ryan has been living a lie, spending millions unopposed to sell voters on a version of himself that doesn't square with reality," Steven Law, president of the Senate Leadership Fund, said in a statement. "That's about to change as Ohioans get a clear picture of the real Ryan who votes down the line with Biden and [U.S. House Speaker Nancy] Pelosi in Washington."
Trump won Ohio by eight percentage points in the 2016 and 2020 presidential elections.
Ohio has a Republican super-majority in the state legislature, and 12 of the 16 U.S. representatives are Republican, but Democrat Sherrod Brown serves as the state's other U.S. senator.
Ryan served as an Ohio state senator before he was first elected to the U.S. House in 2003. He mounted an unsuccessful presidential campaign in 2019 before he was elected to his 10th congressional term.
Ryan decisively won the Democratic U.S. Senate primary in May.
A first-time candidate, Vance won a contentious and crowded Republican primary over six opponents.
With the SLF's new ad campaign, Ohio will rank third among the states the group is targeting.
The SLF is spending $37.1 million in Georgia, where Republican former running back Herschel Walker is vying to unseat Sen. Raphael Warnock (D-Ga.); and $34.1 million in Pennsylvania, where Republican Dr. Mehmet Oz is opposed by Democrat lieutenant governor John Fetterman.
Ryan spokesperson Izzi Levy said in a statement that the SLC's spending in Ohio shows Vance is not a strong candidate.
"Even Republicans admit Vance is a terrible candidate, and McConnell's multi-million dollar bailout isn't going to change that," Levy said.
On Aug. 18, an Emerson College poll showed Vance with 45 percent and Ryan with 42 percent. Among those surveyed, 4 percent plan to vote for another person, and 10 percent are undecided.
The margin of error is plus or minus 3.2 percentage points.
Ryan had a higher favorability rating than Vance in the poll—54 percent to 50 percent.
When asked, regardless of whom they support, which candidate they expect to win, 52 percent of the likely voters favored Vance, compared to 48 percent for Ryan.