Senate to Vote on Semiconductor Bill Aimed at China Competition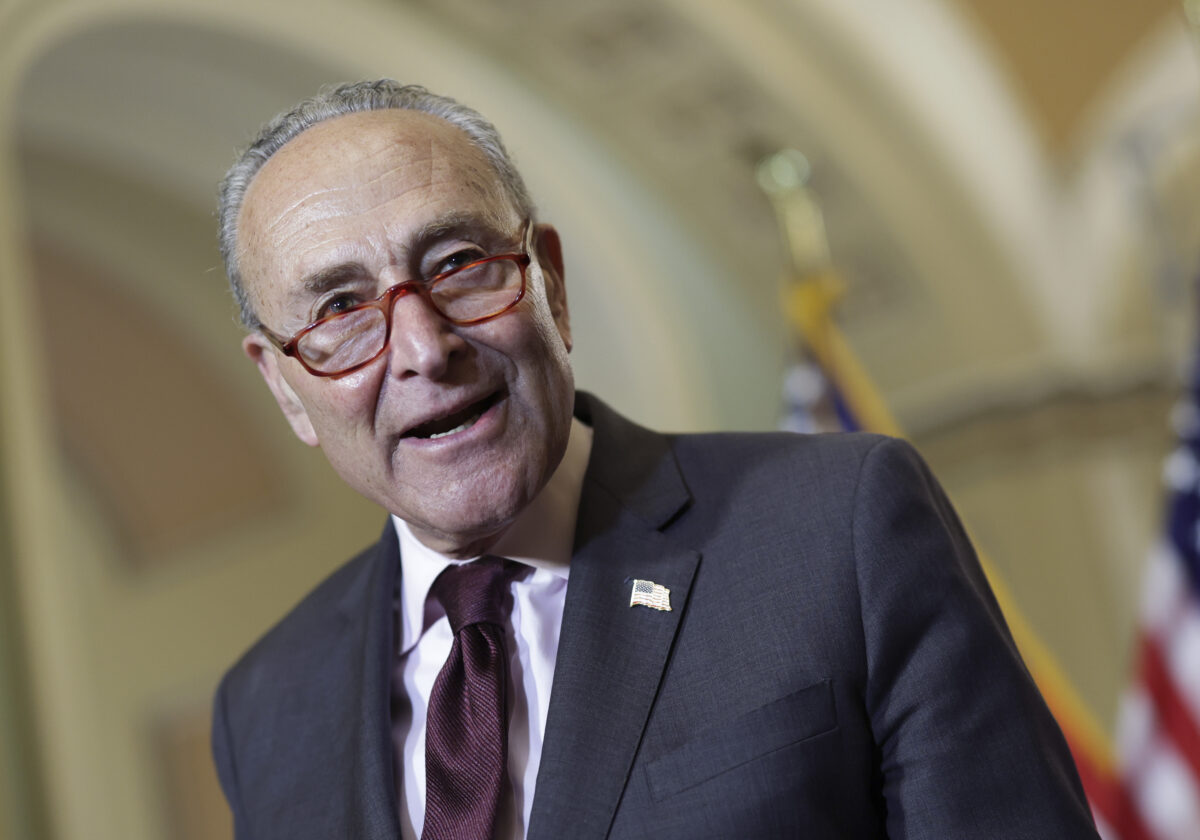 News Analysis
The U.S. Senate aims to pass legislation this week to boost the United States' domestic semiconductor industry and improve competitiveness with China amid a global supply chain crisis.
"We need to move quickly," said Senate Majority Leader Chuck Schumer (D-N.Y.) on July 18.
"Without these incentives from Congress, the capital investment required for expanding production is not economically viable in the United States, given other global alternatives."
The legislation at hand is a compromise version of two bills that members of Congress have been working on for over a year, the purpose of which is to appropriate funding for the nation's domestic semiconductor manufacturing ability.
A Matter of National Security
Semiconductors, which are used in the production of everything from personal computers to hypersonic missiles, have become a key point of anxiety in the last two years as a global supply chain crisis has wreaked havoc on the United States' ability to obtain the chips.
"The semiconductor industry is not just any industry," said Bonnie Glick, director of the Krach Institute for Tech Diplomacy at Purdue University. "It's one that was developed in the United States and touches many of our other industries, including manufacturing, as well as the systems that are intrinsic to modern life."
"Semiconductors are at the heart of technology and play a critical role in our national security, as they power defense systems and emerging technologies including artificial intelligence, 5G and next generation broadband, quantum computing, and hypersonic capabilities," she said.
That reliance on semiconductors has become a problem for national security in the aftermath of COVID-19. In 2021, more than 60 percent of such chips were produced in Taiwan. Still, supply chain woes and related global resource shortages resulted in the nation's inability to obtain enough chips to meet demand.
China has not been immune to the squeeze for chips either, and is quickly dumping resources into standing up domestic production. Glick, who previously served as deputy administrator of the U.S. Agency for International Development under the Trump administration, said that was something the United States could not ignore.
"Other countries, notably China, have been incentivizing production through tax breaks and other measures, and the United States can't afford to stay on the sidelines," Glick said.
"The idea of the legislation is to spur growth at home and encourage allies to invest in the United States."
As such, U.S. leadership aims to swiftly stand up a domestic supply of chips to ensure resilience in the national supply chain through a process referred to as reshoring, in which the creation and supply of chips are controlled either domestically or through close allies of the United States.
"As the recent and ongoing supply chain crisis has demonstrated, we need to develop and sustain more capabilities at home," Glick said. "Shortages have rippled through industries, furloughing hundreds of thousands of U.S. workers employed in everything from manufacturing to logistics to healthcare, while depressing overall output."
"This is the critical moment to focus our efforts on the need to on-shore, near-shore, and allied-shore critical components of the global semiconductor supply chain to ensure that America and our allies are protected from future chip shortages or outages."
In theory, it is toward that end that Congress is meeting this week, though partisan differences have already prevented an agreement from being reached for a year and a half.
Partisan Backbiting on Industry and Environment Delayed Bill
Congress passed the Creating Helpful Incentives to Produce Semiconductors (CHIPS) Act in January 2021. Ever since, however, the legislature has failed to pass a bill to successfully appropriate funding to achieve its goals of developing and strengthening a domestic semiconductor industry.
The Senate passed a version of the bill in June 2021, titled the Innovation and Competition Act (USICA). USICA included $39 billion to build semiconductors over five years, $11.2 billion for CHIPS Act research and development activities, and some $200 billion to boost scientific and technological innovation through tax credits for companies that manufacture chips.
Though USICA passed the Senate 68-32, House Democrats balked at the proposed funding of tax credits for chip companies.
In February 2022, the House passed its version of the bill—the America COMPETES Act—which included the $52 billion for semiconductor manufacturing but cut the $200 billion toward other programs.
Notably, the House bill included a broader swath of funding for unrelated projects such as grants for students studying "green" chemistry and programs for green manufacturing, which drew ire from Republicans.
Now the lawmakers must resolve their differences and pass a compromise legislation through both chambers again before President Joe Biden can sign it into law, which they hope to achieve before leaving Washington for the annual August recess.
"USICA included provisions for countering theft of intellectual property by China," Glick said. "I believe it is important to implement those original provisions and hope to see Congress revisit them. However, we don't want to allow the perfect to be the enemy of the good."
Whether the good outweighs the perfect remains to be seen. Even if the House and Senate reach an agreement, Senate Minority Leader Mitch McConnell (R-Ky.) has threatened to block its passage if Democrats push ahead with a partisan effort to include corporate tax increases and curbs on carbon emissions.
For her part, Glick said that she was hopeful the current bipartisan consensus on the importance of the industry would stand. But ensuring a healthy relationship between the industry and the government would be key to its ultimate success.
"I believe this ambitious, bipartisan package of measures goes a long way toward meeting the current and future needs of U.S. semiconductor research and development, manufacturing, and sourcing, but its execution will need to prioritize coordination between government and private industry," Glick said.