Soros Bucks, Private Jets Found in Pennsylvania AG Josh Shapiro's 11,000-Page Campaign Finance Report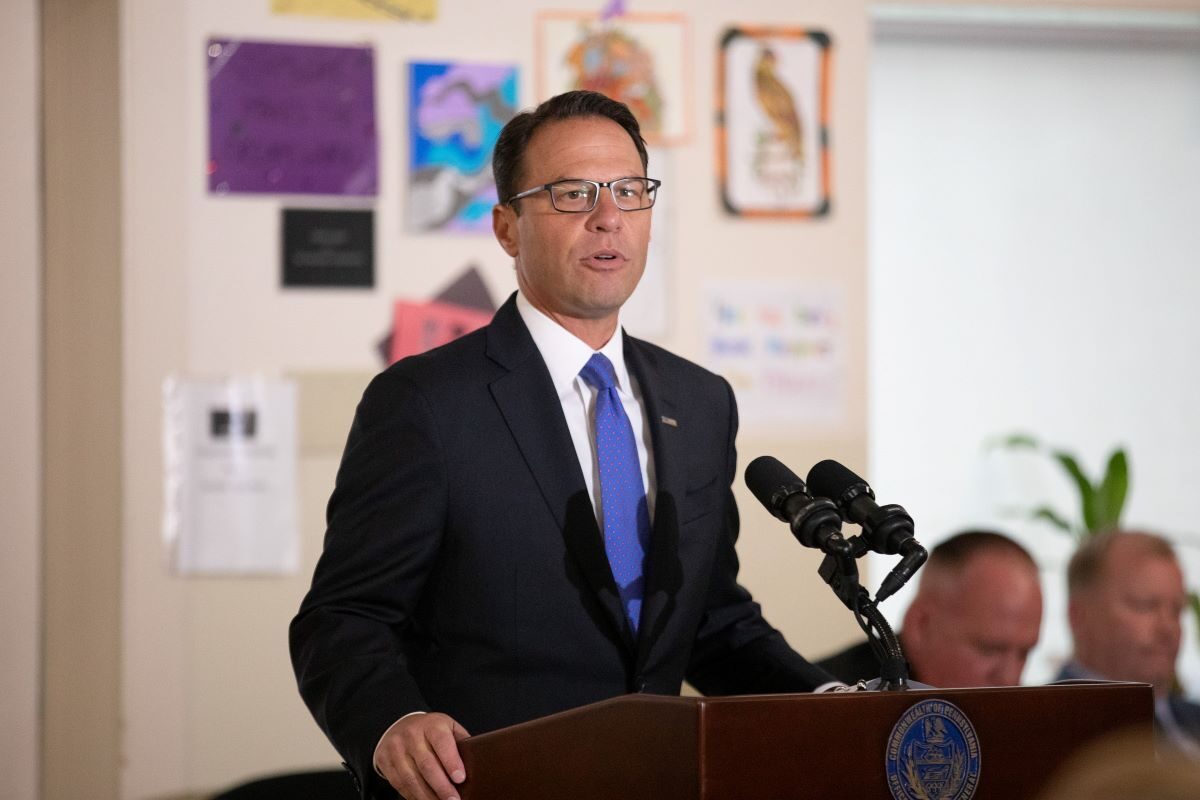 The campaign finance report for Pennsylvania Attorney General Josh Shapiro, Democrat gubernatorial candidate, is tall enough to ride a rollercoaster. It would take 22 reams of paper to print all 10,983 pages of his most recent campaign finance report.
That's 55 inches tall.
Within those pages are three contributions totaling $120,000 from the family of far-left billionaire George Soros, who has funded the campaigns of soft-on-crime district attorneys now in office in major cities across the nation.
On June 29, George Soros' son, Jonathan Soros, who lives in New York, gave Shapiro $10,000. The next day, June 30, Jennifer Soros, Jonathan Soros' wife, contributed $10,000. On Aug. 8, Andrea Soros, George Soros' daughter, gave Shapiro $100,000.
The large number of special interest donations may explain why Shapiro has raised significantly more than state senator and Republican gubernatorial candidate Doug Mastriano.
Although Mastriano has some large donations from Pennsylvania-based political action committees—$25,000 from Northeast Leadership Fund, a Republican PAC based in Wilkes-Barre, and $15,000 from Range Resources Energy Independence PAC, which is connected to Pennsylvania's gas industry—most of Mastriano's donations come in small amounts from individual donors.
He received $25 from a voter who lives in Shade Gap in Huntingdon County, $50 from someone in Palmyra in Lebanon County, and $30 from a voter in Phoenixville in Chester County.
Shapiro has small donors, too, but much of his money comes from out-of-state individuals with progressive political agendas. His donors are attached to groups like the Service Employees International Union; Swing Left, a political activism group; and Banking for Climate, an initiative of high net worth individuals asking their banks to stop funding fossil fuel expansion.
Spending Matters
Shapiro has proved himself as a well-connected Democrat fundraiser, with nearly $39 million raised for his campaign, compared to Mastriano's $3.6 million raised.
While fundraising is vital for campaigning, it is not in the governor's job description. Governors decide how to allocate money within the state budget.
If campaign spending is an indicator of how candidates will use taxpayer money, Pennsylvania voters may be considering the different spending habits between Shapiro and Mastriano.
Shapiro has promised environmentalists that he will hold polluters accountable. His campaign website says he will invest in zero-carbon technology and set a goal for Pennsylvania to reach net-zero emissions by 2050. Yet his campaign finance report shows Shapiro has expanded his own carbon footprint during the campaign.
In addition to numerous commercial flights, Shapiro paid $116,000 to Leading Edge Aviation of Doylestown, Pennsylvania, a charter service offering private flights in small aircraft with eight reclining leather passenger seats and a sound system for entertainment. He paid Florida-based luxury air charter, ABOVE Private Aviation, more than $23,000, and spent $24,000 on Pennsylvania-based Contrail Inc., another private airplane service.
Shapiro's report shows travel expenses in San Francisco, Chicago, New York, and Connecticut, as well as Pennsylvania, with stays in rented homes and hotels. In July, the campaign spent over $900 at the Ritz-Carlton in Atlanta. He also paid $5,200 at Four Seasons Hotel in Seattle and $4,815 at Four Seasons Hotel Silicon Valley in East Palo Alto, California.
Mastriano is traveling the state in a camper with expenses including many stops at gas stations and stores such as Sheetz and BJ's Wholesale Club. When the campaign pays for hotels, it is often a Days Inn or Hampton Inn.
Campaign spending and donations happen every day, so the financial picture is constantly changing, but the state requires candidates to file reports during defined cycles of the race. The numbers included here are based on the most recent Cycle 4 report, covering financial activity from June 7 to Sept. 19, 2022.
As of that date, Shapiro had spent $28 million to get a job that pays $213,000 annually. In other words, Shapiro has spent more than 131 times the annual governor's salary in the pursuit of the position.
In Pennsylvania, the governor's office has a four-year term with a limit of two terms. Current Democrat Gov. Tom Wolf is leaving an open seat after completing his second term.
Mastriano has spent just under $1 million according to the Cycle 4 report. It amounts to nearly five times the governor's annual salary.
It's common for candidates to spend more than their political office's yearly salary. When they were campaigning, former President Donald Trump and Wolf both pledged they would not take the annual salaries that came with their positions.
Using Out-of-State Talent
Shapiro not only receives significant money from out of state, he also looks outside Pennsylvania when hiring most of the services for his campaign.
Shapiro has paid thousands to New York-based Eidolon Communications and JBW Consulting, plus $210,000 to CDT Strategies of Woodside, California, for fundraising consulting.
He has paid $593,000 to Global Strategy Group in New York; $30,000 to North Carolina-based Public Policy Holding; $98,500 to TBD Research of Burbank, California; and $35,000 to Washington-based Spiros Consulting, each for research consulting.
Shapiro paid $68,100 to Weymouth Watson, a Washington firm, for event production and management, plus $3.3 million to GPS Impact in Des Moines, Iowa, for digital consulting and ad production, and more than $956,300 on digital consulting to Ascend Digital Strategies in Boulder, Colorado.
He has purchased some services in Pennsylvania, including $15,000 to SPB Strategies of Pittsburgh for strategic consulting; $12,500 to Cornerstone PR for digital consulting; and $10,500 to Chartiers Group for strategic consulting.
Mastriano, too, has spent money out of state. He has paid C&M Transcontinental of North Carolina $81,000 for campaign consulting; $28,000 to Abundant Life Collective, a St. Louis marketing firm, for event production; and $7,200 to Cape Fear Media LLC in North Carolina for media consulting.
But much of Mastriano's spending is in state, including $78,700 to Capitol Promotions Inc., a Pennsylvania political yard sign company; $79,400 at Hot Frog Print and Media, a Pennsylvania printing company; and $33,700 to Misfit Creates, a Pennsylvania marketing company, for campaign consulting.
"Money is not everything in politics," a Mastriano spokesman told The Epoch Times. "That's why Doug Mastriano won the GOP primary by nearly 25 points against eight opponents who spent $18 million attacking him. The people are a tremendous cudgel against the power of AG Shapiro's money. While many consider a large war chest an indicator of public support, this view of political fundraising is outdated. As recent history clearly shows, grassroots political support is a far better indicator of election outcomes than dollars raised."
The Epoch Times reached out to the Shapiro campaign for comment.
The most recent reports show Shapiro still has $11 million left to spend. Mastriano has $2.5 million.