Speaker Pelosi Says She'll 'Enthusiastically' Support Biden If He Runs Again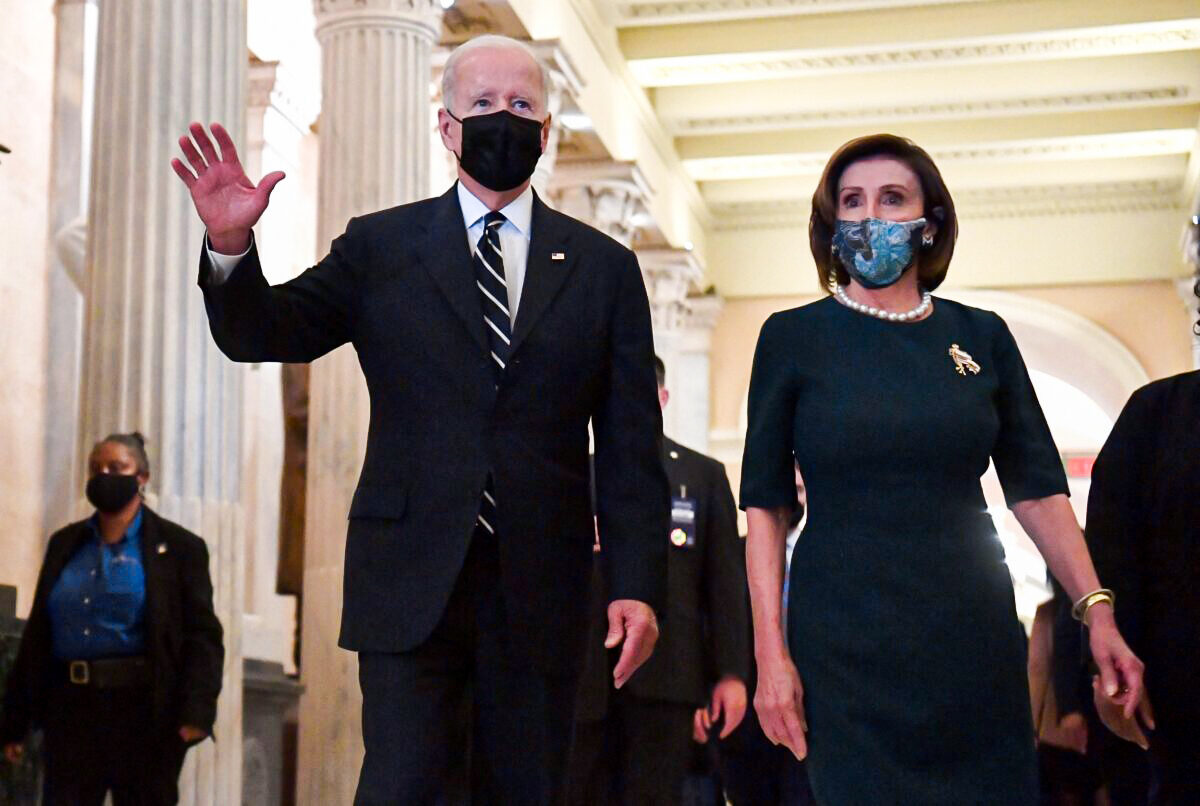 During a Sept. 22 press conference, Speaker of the House Nancy Pelosi (D-Calif.) clarified earlier ambiguous remarks about a possible reelection bid by President Joe Biden, saying she'll "enthusiastically" support him if he seeks a second term.
For months, Democrats have speculated about the possibility that Biden may not seek reelection due to his age.
In earlier statements, Pelosi has been ambiguous about her attitude toward Biden seeking reelection.
"President Biden is the president of the United States," Pelosi said. "He did a great service to our country; he defeated Donald Trump.
"I'm not going into politics about whether the president should run or not," she added.
The answer left unclear whether Pelosi would support Biden if he ran again.
Asked whether she would support Biden if he ran again during her weekly press conference on Sept. 22, Pelosi responded briefly, saying "Yes, enthusiastically."
Party Divided On Biden's Reelection
Democrats have largely pledged their support for Biden in 2024 if he seeks a second term in the Oval Office, but a handful of Democrats have suggested that Biden would not be the best flag bearer for the party after a politically unpopular first term.
Most Democrats who have commented on the issue have said that they'll support Biden "if" he runs again, but many have been more ambivalent as to whether he should do so.
During a debate with Rep. Jerry Nadler (D-N.Y.) for a redistricted New York seat, Rep. Carolyn Maloney (D-N.Y.) suggested she did not think Biden would seek reelection.
"I don't believe he's running for reelection," Maloney, who leads the House Oversight Committee, said during an Aug. 2 primary debate.
The next morning, she walked back her comment's implied criticism of Biden during an appearance on CNN, but refused to recant on her suggestion that the president will not seek reelection.
"Mr. President, I apologize," Maloney said.
"I want you to run," she insisted. "I happen to think you won't be running, but when you run—or if you run—I will be there 100 percent."
"You have deserved it," Maloney added. "You are a great president and thank you for everything you've done for my state and all the states and all the cities in America."
Nadler was evasive in his comments on the issue during the same debate, where he said it's "too early to say" if Biden should seek to run again.
Sen. Patty Murray (D-Wash.) was also relatively ambiguous, saying "He's the president. I support him, and the voters decide. He decides. I don't even understand why that's a question today."
Sen. Michael Bennet (D-Colo.), whose seat is one of Republicans' biggest targets this year, said simply that Biden has "said that he's going to run again, and that's his decision to make."
"It's impossible to express the level of gratitude for Joe Biden having run for president to begin with," Bennet added. "Because he was the only person of 330 million Americans who could have beaten Donald Trump. And he did beat Donald Trump."
Sen. Joe Manchin (D-W.Va.), whose conservative tendencies have led to head-butting with progressives in his own party as well as the White House, has flat-out refused to comment one way or the other, indicating that the West Virginia Democrat has some reservations about Biden running again.
"I'm not going to talk about it," Manchin said when asked about the issue.
Traditionally, presidents have not announced their intention to seek reelection until after the midterms.
But Biden has indicated repeatedly that he intends to run again, to the chagrin of a growing number of Democrat voters and lawmakers alike, who increasingly see Biden as more of a liability than an asset.
Reps. Angie Craig (D-Minn.) and Dean Phillips (D-Minn.) are among the few Democrats who have gone as far as calling for a "new generation" of Democrats to take over from Biden in 2024.
Meanwhile, ranks of Democrats have lined up to promise their support for Biden if he runs again.
"If he runs, I'll support him," Senate Majority Leader Chuck Schumer (D-N.Y.) said when asked about the issue.
Sen. Mark Kelly (D-Ariz.), who is facing a tough challenge from venture capitalist Blake Masters, vowed his support for Biden if he tried to run again.
"If he runs for re-election, I'll support him," Kelly said, echoing Schumer's earlier remarks.
Sen. Bernie Sanders (I-Vt.), who mounted the most competitive primary campaign against Biden in 2020, has also said he'll support a reelection bid despite the two's past rivalry.
"The president has said he's planning to run again, and I plan on supporting him," said Sen. Amy Klobuchar (D-Minn.), who helped propel Biden to victory during the 2020 primary when she suspended her campaign and endorsed Biden.
Sen. Elizabeth Warren (D-Mass.) has opined that Biden "should be running."
A Liability for Some Democrats
For Democrats in tight reelection bids in a midterm predicted to see broad GOP gains, Biden may be more of a liability than anything.
Specifically, GOP leaders like Senate Minority Leader Mitch McConnell (R-Ky.), as well as several GOP campaigning organizations, have been trying to project the 2022 bid for Congress as a referendum on the president.
Amid supply chain issues, a highly controversial withdrawal from Afghanistan, almost-unprecedented inflation, and soaring energy prices, Biden's approval ratings have wavered. As of Sept. 23, Biden's approval among American voters was sitting at 43 percent, six points below Trump at the same time in his presidency.
This has forced Democrats—and particularly House Democrats in tough districts—to try to disassociate themselves with the president.
At his inauguration, Biden was over 78 years old, and is the oldest president in U.S. history by almost a decade. In 2024, Biden will be 82 years old, which has stoked speculation that he may not run again.
Still, Democrats find themselves in a tight place as they seek to maneuver through the pending midterm battle while also staying in the party's good graces.
It remains to be seen how Democrats react if their worst fears are realized this November, particularly if they lose both the House and Senate to Republicans. If that's the case, the currently fringe position in the party of opposing Biden may become more widely shared among Democrats.