State Legislatures Brace for a 2023 Landslide of Post-Roe Abortion Bills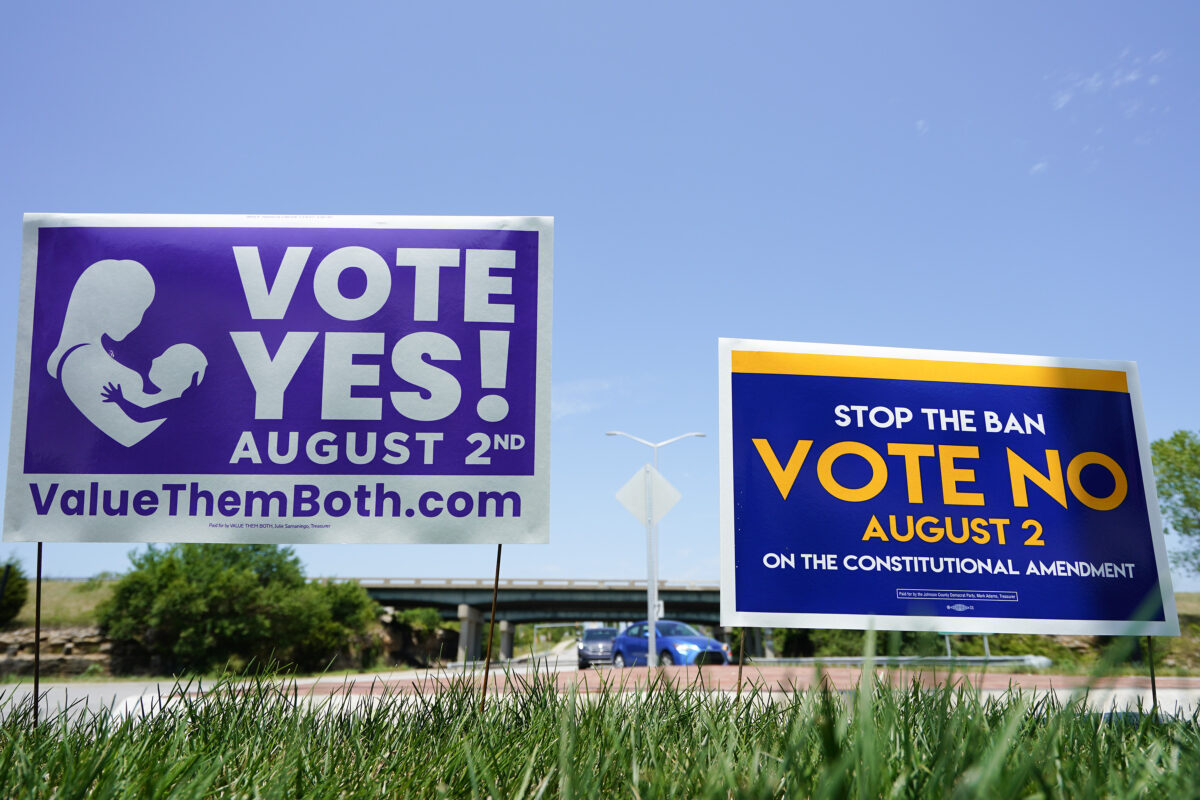 Delegate Marie March (R-Floyd) enters her second session in Virginia's General Assembly with lessons learned during her freshman year about the futility of half-measures on her mind.
That is why she will carry a "personhood" bill when, on Jan. 11, the 100-member Virginia House of Delegates convenes in Richmond, one of 45 state legislatures that will kick off 2023 legislative sessions in January.
"Last session I considered carrying a heartbeat bill, but that's six, seven weeks" during which abortion is allowed, March told The Epoch Times. "I never carried it. I didn't think it went far enough. That's why I submitted this bill this year."
Pre-filed House Bill 1395 states "life begins at conception and each person is accorded the same rights and protections guaranteed to all persons" and repeals all state law provisions "allowing for the performance of abortions."
HB 1395 has little chance to be adopted as drafted, she acknowledges, with a Democratic Senate majority and Republican Gov. Glenn Youngkin expressing support for restricting access to abortion—now legal up to 24 weeks in Virginia—to no later than 15 weeks, but not endorsing attempts to outlaw it altogether.
"It will be interesting to see how it all plays out," March said.
While the commonwealth "goes back-and-forth between Democrats and Republicans, they refer to it as being a purple state," she said her constituency in southwest Virginia's Floyd County is bright red and HB 1395 reflects what her voters demand.
"We almost feel like NoVa—that is what we call Northern Virginia—is a different country," she said. "We don't hardly have a voice. So that was my promise to my voters," to carry the conservative bills, including an abortion ban, to be heard in Richmond. 
March is among the nation's 7,386 state lawmakers who will wade through a complex and massive matrix of abortion-related legislation and litigation in every state with new regulatory authority in 2023.
According to the National Conference of State Legislatures (NCSL), since the U.S. Supreme Court's 1973 Roe v. Wade ruling made access to abortion a federally protected right, states nevertheless have enacted more than 1,000 abortion-related laws, nearly half since 2010, that probed the peripheries of the issue with limited, often court-defined, restrictions or enhancements.
This already robust realm of abortion legislation is set to get even more expansive following 2022's U.S. Supreme Court Dobbs v. Jackson Women's Health Organization ruling, which kicked abortion regulation exclusively back to the states.
Brave New Abortion Regulatory World
Since only 10 state legislatures were in session when that decision was handed down in June, upcoming 2023 sessions—45 legislatures convene in January, including 35 Jan. 2-10—will mark the first time the vast majority of state lawmakers deliberate on abortion with unfettered post-Roe regulatory authority.
State lawmakers in 2023 will see a landslide of abortion-related bills across an evolving tableau of legislation extending beyond gestational limits and total bans, spanning such issues as "chemical or medication abortion," family/maternity leave laws, insurance regulations, and maternal health initiatives. These bills are being pre-filed along with proposed protections for abortion providers/patients from "out-of-state harm" and counter-proposals to impose "out-of-state harm"—including criminal culpability—on those who cross state lines to circumvent abortion restrictions.
Pointing to 2022 midterms' mixed results, abortion rights advocates as well as opponents say they have momentum entering 2023 legislative sessions.
Proponents such as the Guttmacher Institute and National Institute for Reproductive Health maintain the Dobbs ruling galvanized a constituency that engaged forcefully during 2022's midterm elections, sending a message that total bans are not popular in many states, even among some conservative voters.
That reaction blunted Republicans' "red wave" midterm ambitions, most notably in battleground states such as Michigan and Pennsylvania, while prompting voters in six states—including conservative Kansas and Kentucky—to uphold abortion access as a right, they say. 
Conversely, groups such as National Right to Life and Susan B. Anthony Pro-Life America (SBA) say millions of voters embraced pro-life candidates up and down ballots in November, elevating or returning to office thousands of state lawmakers who campaigned on platforms that called for abortion restrictions, including many who advocate total bans under "personhood" bills.
Republicans increased their numbers by nearly 2 percentage points during the 2022 midterms to collectively occupy 55.5 percent of state legislative seats and GOP supermajorities in several states were elected with an explicit mandate to ban abortion in 2023, say pro-life groups in dismissing Democrats' claims that the midterms were a referendum rejecting abortion bans.
"They were all rewarded by voters for their pro-life stances," SBA State Policy Director Katie Glenn said, adding "Pro-life governors went 12-0" in November elections.
On the other hand, she told The Epoch Times, "in some states, abortion was 'the' progressive issue" of the midterms, with candidates who campaigned on protecting access in those states also "rewarded" by voters at the polls.
That sets the stage for polar divergencies in how state lawmakers approach abortion regulation in 2023. The trend among pre-filed bills confirms a sharp partisan divide, with blue states poised to get bluer, or more expansive, and red states set to get redder, or more restrictive.
The difference is Democrat-majority legislatures are expected to uniformly enshrine abortion access while there is discord within many Republican-controlled chambers between conservatives demanding GOP caucus support for no-compromise total bans, such as March's 'personhood' HB 1395 in Virginia, and moderates who argue there is not now enough appetite among voters across the country to ban abortion, but ample opportunity across a swath of states to adopt an array of restrictions and regulations in 2023.
"To some degree, that is true," Glenn said. "But following the elections in November, we're optimistic. We see real opportunities to enact stronger gestational protections earlier (in pregnancies) in a couple of states" while defending and strengthening "trigger" bans across 21 states, and supporting "personhood" total bans where politically feasible.
'Trigger' Laws and Gestational Restrictions
When the U.S. Supreme Court overturned Roe in June 2022, returning abortion regulation to the states, laws across at least 23 states that prohibited abortion were on the books.
There were 13 states with "trigger" bans that were automatically activated when abortion regulation returned the states: Arkansas, Idaho, Kentucky, Louisiana, Mississippi, Missouri, North Dakota, Oklahoma, South Dakota, Tennessee, Texas, Utah, and Wyoming,
Arizona, Indiana, and West Virginia adopted bans post-Dobbs while GOP-majority legislatures in Wisconsin implemented an 1849 abortion ban law and in Michigan, a 1931 abortion ban. Heartbeat laws were set to be implemented in Georgia, South Carolina, and Ohio, technically banning abortion across 23 states.
As of Dec. 18, court rulings have stymied implementation of 11 of 18 state abortion bans. Georgia's is the only one of three heartbeat laws that remains in effect while its merits are set to be deliberated before the state's Supreme Court.
Glenn said abortion opponents are hopeful that Georgia's heartbeat law, adopted in 2019 as The LIFE Act, will be upheld by the state's Supreme Court, especially after justices in early December ruled it could remain in effect while the case is pending. 
Further abortion restrictions being adopted by Georgia lawmakers are "something we could see" in 2023, she said. "We'd like to see the 'chemical abortion' bill come back in play. Last year, Georgia got close to enacting safeguards around that issue."
"The states likeliest to have serious proposals to move gestational restrictions earlier are Virginia, North Carolina, Nebraska, and Florida," Glenn said, "because those are states where they already have good laws, GOP majorities, and fewer court challenges—with an asterisk for Florida."
Prospective 2023 State Actions
— FLORIDA: In their 2022 session, Florida lawmakers banned abortion after the 15th week of pregnancy with no exceptions for rape and incest. Two lawsuits have prevented the law from being implemented, but with GOP lawmakers owning supermajorities in both chambers, appear poised to introduce bills seeking further restrictions— at least down to 12 weeks—if not total bans.
Gov. Ron DeSantis has called the 15-week prohibition "very reasonable" but has shied away from endorsing further restrictions or a proposed 2020 heartbeat bill that died in committee. On Dec. 15, however, he told reporters he was ready to "sign great life legislation" in 2023.
As of Dec. 18, only 59 bills had been filed for Florida's 2023 legislative session, which begins March 7. None are related to abortion.
— NORTH CAROLINA: Glenn said a total abortion ban in Virginia—such as March's "personhood" bill—is unlikely to pass, but restrictions, if not a ban, are "in play" in North Carolina where Republicans gained a supermajority in the Senate in November and came within one vote of a supermajority in the House.
"The margins are tight, but it is a state with pro-life Democrats," she said. Proponents could "form a coalition around the heartbeat law" but would "need told hold tight … to override [Democratic Gov. Roy Cooper's] veto."
North Carolina GOP leaders appear to favor restricting abortion to 12-13 weeks, down from 20 weeks that it is now legally accessible in the state. 
— NEBRASKA: State lawmakers in the unicameral Nebraska Legislature failed to adopt a measure restricting abortion to 12 weeks, down from 20 weeks, last summer. But conservatives say after November's elections, they have the votes to do that, and maybe go further.
Sen. David Murman, a Republican in all but official designation in the nonpartisan chamber, told The Epoch Times, "We will have some kind of pro-life bill in the Nebraska legislature this session. My suspicion is it will be something like a heartbeat bill."
Murman, who represents six counties across south-central Nebraska, said lawmakers cannot pre-file bills, so he is uncertain what type of abortion legislation will emerge until the session convenes in Lincoln on Jan. 4.
"I don't know exactly what the bill will say at this time," he said. "My hope is we can get something restrictive passed—the more restrictive, the better in my view. I follow the science. I know that life begins at conception, at fertilization."
When voters in November overwhelmingly installed pro-life lawmakers into the Senate, it was a not-so-subtle nudge to state lawmakers to impose more restrictions on abortion in 2023, Murman said.
"Right now in the United States, [abortion] laws are comparable to China and North Korea, so we need to get stronger pro-life laws on the books," he said.
— SOUTH CAROLINA: State lawmakers adopted a heartbeat law in 2021 that was blocked and unblocked in court rulings until the South Carolina Supreme Court suspended enforcement while it ponders the law's merits.
In a summer special session, dominant Republicans could not agree on how extensive restrictions should be, whether to impose a total ban, and if it should include an exception for rape victims.
"South Carolina didn't get it done in a special session" and its heartbeat law is "still facing arguments in their Supreme Court," Glenn said, but there is "opportunity for legislation post-Dobbs" in South Carolina in 2023.
Indeed there is, maintains state Rep. John McCravy (R-Greenwood), noting while it may not have manifested as expected across much of the country, there was a "red tidal wave" in South Carolina, where Republicans gained eight seats in the state House, making passage of a "personhood" bill totaling banning abortion likely in 2023.
McCravy told The Epoch Times he would pre-file a "personhood" bill banning abortion "to the point of conception" for the 2023 session by Dec. 15.
"It will be the same bill as last year with a few tweaks from the battles during the debates" that rocked last summer's special session, he said. 
"We should have strong support for it," McCravy said, which he described as "building up" among GOP lawmakers in the House since the Dobbs decision, but not so much in the Senate, where his 2022 "personhood" bill was heavily amended before died.
"I feel like it will pass. The question is, are we going to let the Senate try first?" McCravy said, noting it is critical to get such a bill while a "pro-life governor"—Republican Henry McMaster—is in office.
"We never give up. This is an issue I will be on as long as I'm an elected official," he said. "My view on it is the legislature makes the laws. I don't think we should pay attention to justices who take it upon themselves to make laws."
— MISSOURI: One of the states where a trigger ban outlawing abortion—except in medical emergencies and when necessary to save the life of the mother—is in effect, Rep. Brian Seitz (R-Branson) will nevertheless reintroduce his 2022 "personhood" bill in 2023.
Seitz told The Epoch Times that his proposed HB 167 would ensure "any unborn child conceived in the state of Missouri would have all the rights and liberties of any other Missouri citizen—and that includes the right to life."
He said his 2022 "personhood" bill made it through the committee amendment process, "all the way through the Fiscal Review Committee," but stalled in the Senate. "After midterms, we now have a more favorable Senate," he said.
Missouri already has "some of most pro-life legislation in the United States," Seitz said, but adopting a "personhood" bill "will make that pro-life stance even stronger" and frustrate efforts by abortion advocates to get a ballot measure enshrining abortion access as a right before voters.
"With the initiative petition process, a 'personhood' bill would head that off at the pass, if that individual in the womb is declared a human person with the right to life, liberty, and pursuit of happiness," he said.
Seitz has also pre-filed HB 163, which would make it a felony to "knowingly import, export, distribute, deliver, manufacture, produce, prescribe, administer, or dispense … any medicine, drug, or other means or substance to be used to induce an abortion on another person."
— WYOMING: State lawmakers adopted HB 92, essentially a heartbeat bill, in February with Republican Gov. Mark Gordon signing it into law in March. The law went into effect five days after the Dobbs ruling but was stayed by a state district judge and remains suspended pending a hearing before the state's Supreme Court.
Rep. Rachel Rodriguez-Williams (R-Cody), who sponsored the 2022 bill, said she is confident the law will be upheld and regardless of ruling, expects to see "more legislation this session" related to abortion that "supports women and protects children."
"The overturning of Roe leaves no doubt that states have a compelling interest in protecting the unborn in every stage of development," she told The Epoch Times. "I believe that Wyoming is a very pro-life state. Overturning Roe gives Wyoming a chance to affirm that life is a human right."
Glenn said Iowa, Montana, New Hampshire, and Texas are among the other states expecting to see significant slates of restrictive abortion legislation in 2023, noting there's "a lot of energy in Iowa, a very pro-life state" where Republicans have secured supermajorities in both chambers and instead waiting for a court ruling on their 2019 heartbeat bill, may simply readopt it or pass a "personhood" measure totally banning abortion.