These Five Senate Seats Could Flip in the November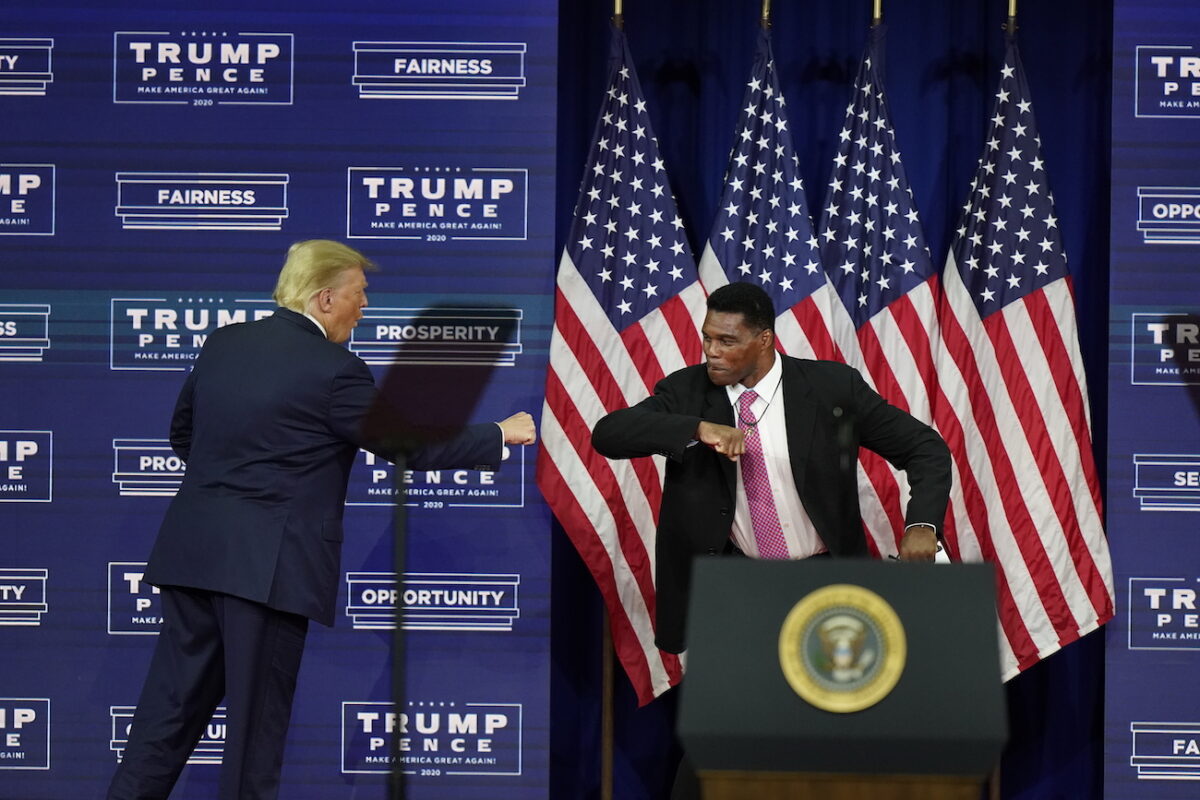 Fifty days remain until the Nov. 8 general election that will determine whether Democrats retain a majority in the House and Senate or if Republicans wrestle away control of one or both chambers.
A lot can change in 50 days, campaign teams and political strategists agree.
Earlier in the summer, Republicans seemed to have a significant advantage with record-high inflation and gas prices and Biden's low approval ratings. The U.S. Supreme Court's decision to overturn Roe v. Wade in July appeared to energize Democrats.
The FBI's raid on former president Donald Trump's Mar-a-Lago residence in Florida fueled conservative Republicans.
The economy, many political pundits believe, will play a significant role in midterm elections, and Democrats are pointing to declining gas prices and Biden's Inflation Reduction Act and student loan forgiveness plan as examples that brighter days are ahead for Americans' bank accounts.
While multiple forecasts project that Republicans will regain control in the House, even GOP leaders are split about the future of the Senate. Nationwide, 14 seats held by Democrats and 21 filled by Republicans are on the ballot.
Last month, Senate Minority Leader Mitch McConnell (R-Ky.) told reporters that he believes Republicans have a better chance of winning the House than the Senate. The quality of the GOP's Senate candidates could hinder the party's ability to regain control of the Senate, he added.
"I think there's probably a greater likelihood the House flips than the Senate. Senate races are just different—they're statewide, candidate quality has a lot to do with the outcome," McConnell said.
McConnell did not mention candidates by name, but Herschel Walker in Georgia and Mehmet Oz in Pennsylvania are not performing as well as originally expected in the polls.
In the race to replace retiring Republican Sen. Rob Portman in Ohio, 10-term Democratic Rep. Tim Ryan is gaining more traction than anticipated against first-time candidate J.D. Vance, who is endorsed by Trump.
McConnell's comments drew criticism from Republican Senatorial Committee Chairman Rick Scott, who told Politico that "Sen. McConnell and I clearly have a strategic disagreement here. We have great candidates. He wants to do the same thing I want to do: I want to get a majority. And I think it's important that we're all cheerleaders for our candidates."
In an Op-Ed published by the Washington Examiner, Scott wrote that "many of the very people responsible for losing the Senate last cycle are now trying to stop us from winning the majority this time by trash-talking our Republican candidates.
"It's an amazing act of cowardice, and ultimately, it's treasonous to the conservative cause.
"Giving anonymous quotes to help the Washington Post or the New York Times write stories trashing Republicans is the same as working with the Democratic National Committee."
With early voting starting in some states, and less than two months until the Nov. 8 general election day, here are five senate seats that could flip and determine which party has control:
Pennsylvania
While John Fetterman decisively won the Democratic primary, Mehmet Oz defeated David McCormick by less than 1,000 votes after a recount in a tense Republican primary.
Fetterman suffered a stroke days before the primary, cast his vote remotely from a hospital bed, and is still recovering. The candidates are vying to replace retiring Republican Sen. Pat Toomey.
Until the past few weeks, Fetterman has garnered sympathy for his health condition while trolling Oz on social media with memes depicting the celebrity surgeon as a wealthy carpetbagger from neighboring New Jersey.
Oz has fought back by pointing to Fetterman's absence from the campaign trail, questioning his cognitive abilities in the aftermath of the Pennsylvania lieutenant governor's stroke, and admonishing him for only agreeing to one debate.
Editorials in The Washington Post, Pittsburgh Post-Gazette, and Philadelphia Inquirer have also expressed concern about Fetterman's wellness and have criticized him for hesitating to debate Oz.
The first absentee ballots are set to be mailed to Pennsylvania voters on Sept. 19, but Fetterman has only agreed to one debate—on Oct. 25, two weeks before election day.
Oz wanted the first debate to occur on Sept. 6, but Fetterman declined. Instead, Oz held a press conference in the Philadelphia area with Toomey.
At the press conference, Oz and Toomey attacked Fetterman for refusing to debate and questioned his ability to serve in the Senate, if elected, because of his health condition.
After suffering the stroke on May 13, Fetterman had surgery to implant a pacemaker. It was revealed that he has a serious heart condition. Fetterman, who has not provided access to his medical records, has said that he almost died.
Since the stroke, he has conducted just a few interviews with reporters, has not held a press conference, and has incorporated closed-captioning in video interviews with media members.
Polls still favor Fetterman, but the race is tightening as both parties' Senate campaign arms pour millions of dollars into media buys leading to Nov. 8.
Nevada
In one of the nation's most-watched Senate races Trump-endorsed Adam Laxalt, Nevada's former attorney general, leads incumbent Democrat Catherine Cortez Masto in the Emerson College Polling/8 News Now/The Hill poll released last week.
Conducted between Sept. 8 and Sept. 10 among 1,000 likely voters, the survey indicated that Laxalt is ahead 42 percent to 41 percent.
It is the second time over the past seven surveys that Laxalt has topped Cortez Masto, according to FiveThirtyEight.
In a Sabato's Crystal Ball Aug. 4 analysis, Kyle Kondik wrote that Laxalt "is not a superstar Republican recruit," but "he does at least stand out for being a prior officeholder and someone who has been through tough races in the past."
"Democrats are hoping to use Laxalt's anti-abortion rights stance as a weapon against him in a fairly pro-abortion rights state," Kondik added.
Polls have flip-flopped in the Laxalt-Cortez-Masto race. Laxalt held an edge in April, but after Roe v. Wade was overturned, there was a 10-point shift that saw Cortez Masto erase a three-point deficit and gain a seven-point advantage, according to a statewide Aug. 14–17 Suffolk University/Reno Gazette-Journal survey of 500 likely Nevada voters.
Democrats and Republicans acknowledge that abortion, and not solely the economy, will be a hot-button issue in the race.
Wisconsin
In August, incumbent Republican Sen. Ron Johnson trailed Lt. Gov. Mandela Barnes by seven points in a Marquette Law School poll. Last week, Marquette released a new survey showing that Johnson held a 49 percent to 48 percent lead over Barnes.
The GOP is peppering the Wisconsin airwaves with negative ads about Barnes tying him to the "squad" of House progressive Democrats.
Barnes is "not just a Democrat, but a dangerous Democrat," the National Senate Republican Committee said in one spot.
Barnes "supports defunding the police," the pro-Johnson Wisconsin Truth PAC said in its ad.
Barnes countered in a spot denying that claim.
"To the extent there has been a shift, Wisconsinites are finally beginning to understand who Mandela is and what he truly believes," Johnson told the Milwaukee Journal Sentinel. "Not that he's telling them. He's hiding from the press.
"I hope the mainstream media in Wisconsin starts demanding that he start answering their questions and be honest with them, which I don't think he's been," Johnson added.
"He's been running away from his past positions, which he realizes are out of the mainstream thought of Wisconsinites, incredibly unpopular."
Candidates will rise and fall in the polls, Barnes campaign spokeswoman Maddy McDaniel said in a statement, "but our campaign remains focused on reaching every voter we need to win, and Mandela will continue to bring his message of fighting for the middle class to every corner of Wisconsin."
Georgia
Incumbent Democratic Sen. Raphael Warnock has agreed to debate Republican opponent Herschel Walker on Oct. 14 in Savannah. For several weeks, Walker had needled his opponent for not committing to a forum.
On Sept. 8, Walker told a crowd of supporters. "The … big contrast between the two of us, and … You may not have heard this. The man is scared to debate me. Y'all hear? … No, he don't want to debate me. I told him to show up Oct. 14  in Savannah, his hometown, and the man is still running. But he don't know I can catch him."
Warnock's campaign believes it is Walker who has dodged debates.
"Today, the Warnock for Georgia campaign is challenging Herschel Walker to quit the games and show whether he's really ready to represent Georgia," the Warnock campaign said in a press release on Sept. 7.
"After Herschel Walker repeatedly claimed he was ready to debate, even going so far as to say Reverend Warnock should name the time and place, Walker has now done everything he can to avoid being forced to answer questions."
Walker, who is endorsed by Trump and is beloved in the state for his University of Georgia football stardom, is the target of attack ads reminding voters of a past that includes mental health challenges and violence.
A new spot features footage from Walker and his ex-wife detailing how he pointed a gun at her head. Walker has openly said he has dissociative personality disorder, formerly known as multiple personality disorder.
Walker is averaging half a percentage point ahead of Warnock, according to RealClearPolitics, which rates the race a toss-up. The past three polls from different organizations conducted in late August or early September have indicated that Walker holds a lead ranging from 1 to 3 percentage points, which is within the margin of error.
Georgia voters elected two Democratic senators in runoffs last year. Warnock is seeking his first six-year term.
Arizona
Trump-endorsed challenger Blake Masters trails incumbent Democratic Sen. Mark Kelly by 1 percentage point in the Arizona Senate race, according to a poll released by The Trafalgar Group on Sept. 18.
Kelly received 46.6 percent support of voters who were asked who they would vote for if the election was held today. Masters garnered 45.4 percent.
The Cook Political Report calls the race a toss-up.
The Sentinel Action Fund is a super PAC linked to Heritage Action for America. The organization recently announced it will spend at least $5 million to support Masters. The breakdown of funds includes $3.5 million for television spots and $1.5 million for voter outreach.
Masters won the primary with $13.5 million in funding from billionaire tech entrepreneur Peter Thiel, who founded PayPal among other ventures. Thiel has not committed financial support for Masters in the general election.
The Senate Leadership Fund cut its September ad reservations for Masters and re-allocated money to bolster J.D. Vance in Ohio.
To date, Democrats have secured $39 million worth of spots between now and Election Day while Republicans have spent $14 million, AdImpact reports.
Reflecting each party's strategy nationwide, in Arizona the Democratic Senatorial Campaign Committee is targeting Masters about his pro-life stance on abortion while the National Republican Senatorial Committee aired an ad reminding voters that "Kelly's voted to keep our borders open to illegal criminals and to let them stay here legally, Kelly voted to fund teaching our children woke racism and extremism.
"He even supports extreme last-minute abortions right before a baby's birth. This is Mark Kelly's radical, extreme America, but you don't have to live in it."