Top Democratic Challengers Vying to Take on DeSantis Battle on Debate Stage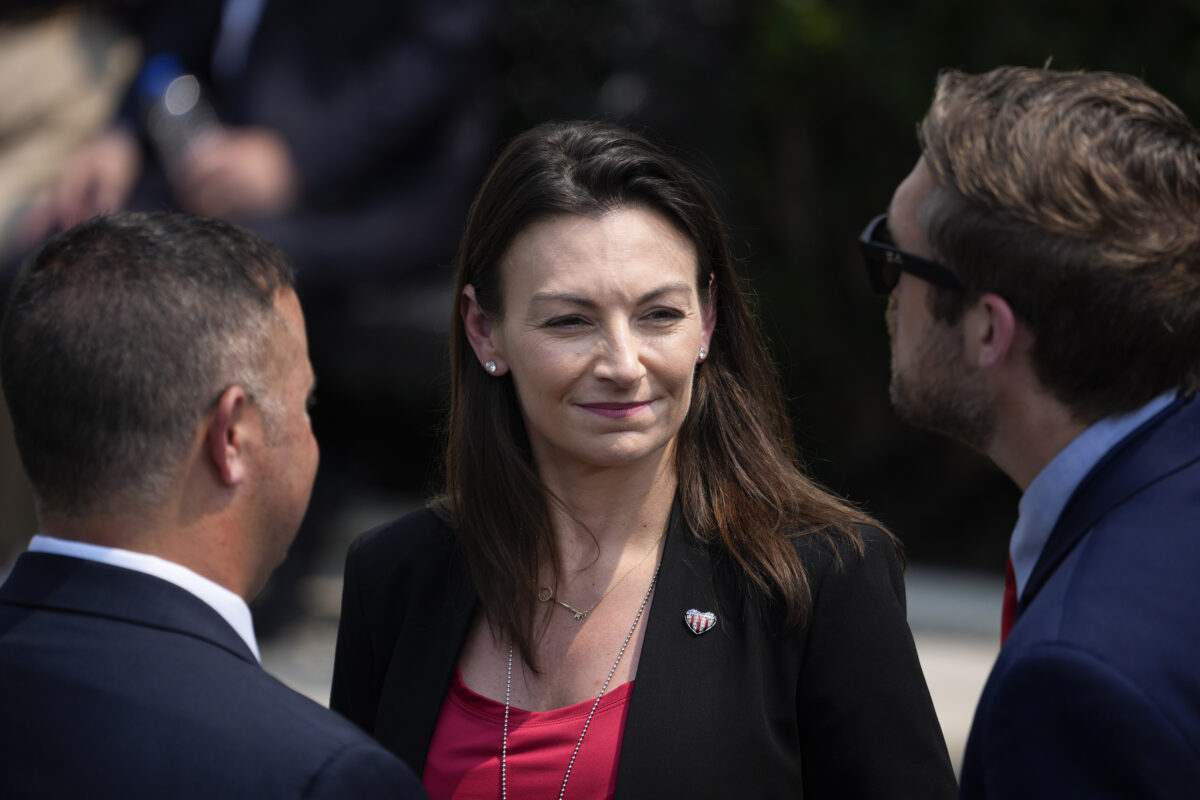 The top two Democrats hoping to unseat Fla. Gov. Ron DeSantis this fall faced off in a contentious televised debate in Miami on June 21.
But the opponents paused their verbal sparring to agree on a handful of issues facing the Sunshine State.
U.S. House Rep. Charlie Crist (D-Fla.) and Nikki Fried, the state's agriculture commissioner, concurred that soaring home prices and property insurance costs warrant emergency action.
Both promised, if elected, to work to "ban assault weapons." And both said they'd support the death sentence for the shooter on trial for killing 17 at a school in Parkland, Fla., in 2018.
During the debate—featuring many questions in Spanish and translated for the candidates—both said they favored comprehensive immigration reform. One million "undocumented workers" in agriculture are "essential to our economy," Fried said.
And both vowed to repeal the Parental Rights in Education bill. The legislation sparked controversy around the country after opponents dubbed it the "Don't Say Gay" bill.
Crist and Fried lead a field of four Democrats hoping to displace DeSantis. They'll face off on Aug. 23 in the Democratic primary for governor.
DeSantis, the incumbent, doesn't have a Republican challenger. So he automatically advances to the general election on Nov. 8.
Parental Rights in Education
During the debate, Crist and Fried expressed outrage for DeSantis. But nothing inflamed them as much as the new Parental Rights in Education law.
Signed by DeSantis in March, the legislation bans instruction on sexual orientation and gender identity in classrooms of children in third grade or younger. It requires schools to involve parents when critical decisions about a student are being made, such as whether to help a child become transgender. And it allows parents to sue if schools keep secrets from them.
The five-page law doesn't prevent students and teachers from mentioning LGBTQ loved ones. And it doesn't block students from confiding in teachers about their confusion about sexuality.
Still, both leading Democrats voiced those concerns.
They also tussled over which of them was most "pro-choice." Fried said she's always favored unrestricted access to abortions. She accused Crist of advancing anti-abortion legislation in his days as a Republican, and said he remains "pro-life."
DeSantis signaled his pro-life leanings when he signed a bill in April that bans most abortions after 15 weeks. State law previously blocked most abortions after about 24 weeks, when an infant could survive outside the mother's body.
The on-stage spat between the DeSantis challengers continued as Fried questioned whether Crist would tighten restrictions on gun ownership, after being against them in the past.
In a just-launched TV ad, Crist promises to "protect kids with common sense gun laws." He also says he'll "defend a woman's right to choose" abortion.
Crist says in the ad that DeSantis "wants to outlaw" all abortions, and opposes background checks for guns, "even for violent criminals."
Representatives of the DeSantis campaign did not respond to requests for comment from The Epoch Times.
Throughout the hour-long debate, Crist, 65, stayed focused on taking swipes at DeSantis. Fried, 44, unrelentingly hurled barbs at Crist.
She criticized his flip-flopping on issues to "enhance his political career." She pointed out he'd already served as governor of Florida, but as a Republican, from 2007 to 2011.
Crist changed his affiliation to independent, then switched to Democrat. Now, he represents the Gulf Coast beaches in the Clearwater-St. Petersburg area in Congress.
Fried said her opponent wasn't being truthful about his record, and repeatedly accused him of trying to "rewrite history." Crist responded in soothing tones, creating a sharp contrast between them with his calm demeanor.
"You just heard the voice of desperation," Crist told the audience placidly.
He said polls show he's ahead of Fried by 17 points, and they also show that he'll beat DeSantis, too.
But he suggested a compromise.
He promised to immediately endorse Fried's candidacy on the night of the primary if she wins. And he urged her to make the same promise.
Fried did not agree. She insisted she was the only candidate who could triumph over DeSantis.
Political handicappers from Inside Elections and Sabato's Crystal Ball say DeSantis is "likely" to win reelection. Both stop short of calling the race a "solid" or "safe" bet for DeSantis.
There has been little reliable polling on the race, analysts agree.
Candidates can, and often do, pay for polling engineered to sway results. And candidates usually only mention poll numbers when they're losing, Florida political analyst Susan MacManus told The Epoch Times.
RealClearPolitics considers only polls deemed reliable. The average of those conducted between August 2021 and mid-February show DeSantis ahead of Crist by 8.8 percentage points.
Instead of responding to Fried's accusations, Crist repeatedly blasted DeSantis, saying the governor doesn't care about Florida, and only cares about running for president in 2024.
DeSantis consistently has deflected questions about whether he's considering a run for the White House. Politicos across the nation consider him a leading candidate to be the Republican nominee.
Half of Floridians say they approve of the job DeSantis is doing when it comes to jobs and the economy, according to a recent survey by the University of South Florida and Florida International University. Only 34.2 percent approved of how President Joe Biden is handling the same issues.
Fried said DeSantis has a "head jerk reaction" when she speaks at cabinet meetings because "I make him nervous. I throw him off." She blamed Crist for many of Florida's current challenges, telling her opponent, "People are suffering today because of decisions you made as governor."
Fried billed herself as "something new."
Early in the campaign, she burned with passion for legalizing the recreational use of marijuana. But since the U.S. Supreme Court overturned Roe v. Wade in June, she's shifted her focus to guaranteeing access to abortions.
Political analysts have suggested Fried's only hope of beating Crist is to energize younger voters and boost her name recognition. She's far behind in donations, which will make it difficult to pay for expensive, widespread TV advertising before the primary.
Donors have sent Fried $2.5 million since June 2021, required candidate financial reports show.
Contributors have sent Crist nearly $5.7 million since May 2021. The Friends of Crist political action committee (PAC) has taken in almost $5.9 million during that time.
DeSantis donors have sent his campaign almost $13.1 million since November 2021. The Friends of Ron DeSantis PAC has raked in more than $116.6 million since October 2020.
On Nov. 8, DeSantis will square off against the winner of the Democratic primary, along with three write-in candidates, two candidates registered as having no party affiliation (NPA), and a libertarian.