Trump-Backed Cox to Face Oprah-Boosted Moore in November's Maryland Governor Race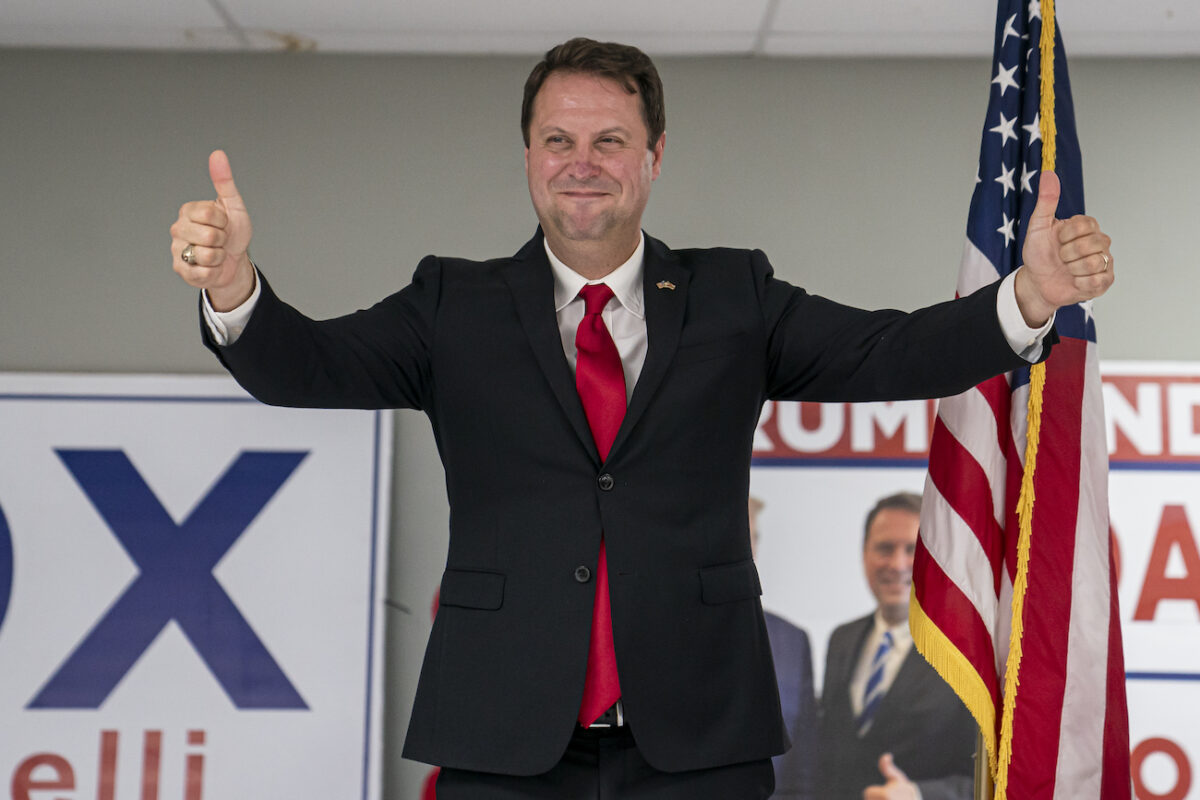 Trump-endorsed Del. Dan Cox (R-Frederick) cruised to a surprisingly easy victory over a strong party rival backed by a popular Republican governor and outspoken Trump critic to win the July 19 Maryland GOP primary.
Now, the first-term state delegate will take on a charismatic Democratic political newcomer buttressed by Oprah Winfrey in November's general election.
Cox, a conservative attorney endorsed by former President Donald Trump, was declared the winner in his Republican gubernatorial primary race with former state Labor and Commerce Secretary Kelly Schulz two hours after polls closed on July 19.
Schulz was backed by term-limited Republican Gov. Larry Hogan, who clashed with Trump often while he was in the White House, in a race most expected to be too close to call for days, if not weeks.
But the Trump-Hogan proxy primary proved not to be as competitive as anticipated with Cox leading by 37,000 votes—56 percent—with 77 percent of the tally counted.
He also got a boost from the Democratic Governors Association, which spent more than $1 million on messaging directed at Republicans in support of the conservative, Trump-endorsed Cox over the moderate Schulz. 
The gambit is that Cox is toon conservative to be successful ing a general election in deep blue Maryland.
Cox, 47, vows if elected he would file bills restricting abortions, banning mask and vaccine mandates, eliminating transgender rights, and authorizing a federal audit of 2020 elections.
He vigorously opposed Maryland's COVID-19 mitigation measures and challenged the certification of President Joe Biden's 2020 victory after observing mail-in ballot counts in Philadelphia.
Cox's law firm sued Hogan over COVID-19 restrictions and represented a man who sued local officials for arresting him for not wearing a mask at a polling site.
He chartered buses for the Jan. 6 rally and, during the Capitol protest, called Vice President Mike Pence "a traitor" in a Twitter post he later deleted. 
In March, Cox accused Hogan of malfeasance in office, theft of "the people's liberty and property," and "deprivation of the religious liberties of the people" in a bill to initiate impeachment proceedings. It was never heard.
In a July 12 statement, Trump said, "Dan Cox is doing a great job running for Governor of Maryland. He will bring dignity back to a State that is much more 'red' than anyone would ever know or believe. Dan will fight for our schools, our jobs, and our entire way of life. More importantly, Dan will end Larry Hogan's terrible RINO reign by defeating his 'Never Trump' successor, another low-energy RINO, Kelly Schulz."
Schulz, 53, was appointed by Hogan to his cabinet as the state's Secretary for the Department of Labor, Licensing, and Regulation, and the state's Secretary of Commerce, where she launched Maryland's "Innovation Uncovered" initiative.
Elected to the Maryland House in 2010, she was regarded as the "establishment candidate," touting GOP "traditional values" and nearly three times the campaign contributions Cox raised—sans the Democratic Governors Association's $1 million assist.
Shulz's platform called for expanding school choice, repealing a state tax that links gas taxes to inflation, "treating criminals like criminals," adds adopting a "parental bill of rights." 
Her campaign said Cox was "unstable" and "unfit for office," citing Hogan's 2021 claim that he is a "QAnon whack job." She maintained Cox would be routed in a general election, noting Democratic groups were contributing to his campaign.
Cox is likely in November to face Wes Moore, a U.S. Army Airborne Ranger Afghanistan combat veteran, best-selling author, and investment banker who was leading former U.S. Labor Secretary Tom Perez by nearly 35,000 votes with more than 61 percent of the tally counted early July 20.
Projections indicated a far closer contest in the nine-candidate Democratic gubernatorial primary where six candidates had raised more than $1 million in campaign cash. Polls pointed to a narrow race that was unlikely to be called for days, if not weeks.
The field included candidates with lengthy resumes reflecting national and statewide name recognition: Perez, State Comptroller Peter Franchot, former Maryland Attorney General Douglas F. Gansler, former U.S. Education Secretary John B. King, Jr., and Clinton White House official Jon Baron.
But Moore, 43, identified by Winfrey a decade ago as having the "it" factor after writing a best-selling book, 'The Other Wes Moore,' emerged early as a force on the campaign trail.
Winfrey also narrated a 30-second ad on Moore's behalf, saying, "This moment that we're in demands a different type of leader. For governor in Maryland, you have one in my friend Wes Moore."
Raised by a widowed Jamaican-immigrant mother, Moore is first Black Rhodes scholar from Johns Hopkins University who, as chief executive of the Robin Hood Foundation, raised hundreds of millions of dollars to fight poverty.
Moore, in campaign addresses, insists everyone deserves an equal opportunity to succeed, saying as a former Wall Street investment banker, he knows Maryland can become more competitive and more equitable so "no one is left behind."
His platform includes a plan to combat climate change in his first 100 days in office. He vows to protect abortion rights, close the racial wealth gap, and help older residents and retirees to stay in Maryland,
Moore tells voters he and lieutenant governor running mate Aruna Miller, both children of immigrants, are the only ticket in either party's primaries with legislative, executive, military, and nonprofit experience.
Moore had not been declared the winner with nearly 40 percent of the vote still to be tallied but held a 9 percentage point lead over Perez and 17 percentage point bulge over Franchot.
Perez, 60, served as director of the U.S Department of Justice Civil Rights Division 2009-13 and Labor Secretary 2014-16 in the Obama administration before leading the Democratic National Committee for several years.
Franchot, 74, a Vietnam War veteran who served in the Maryland Assembly for 20 years before being elected to four four-year terms as state comptroller is a populist who describes himself as "an independent voice and strong fiscal watchdog" and "a real Democrat" who represents "the little fellers, not the Rockefellers."