Upstart Progressive Tests 'Establishment' Democrat in Hudson Valley Congressional Primary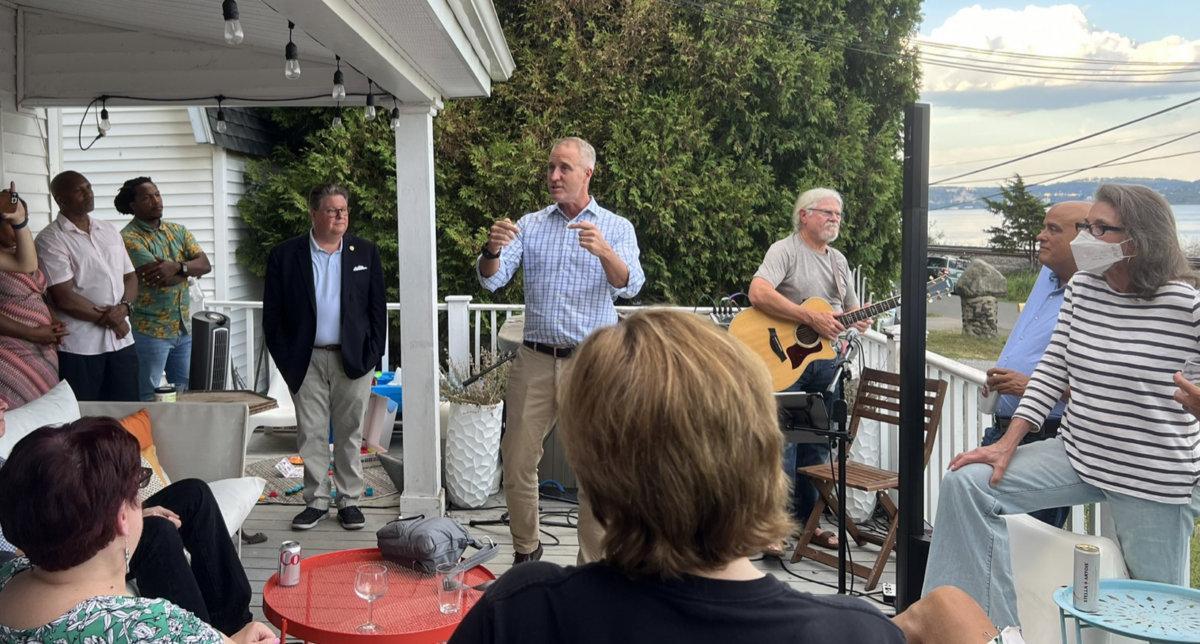 Five-term Rep. Sean Patrick Maloney (D-N.Y.) is seeking reelection in his Aug. 23 Democratic primary by touting his record as a moderate dealmaker who can win competitive elections in a swing Hudson Valley congressional district won by former President Donald Trump in 2016.
Maloney, a self-described "gay guy with an interracial family," has represented New York's purple Congressional District 18 (CD 18) for a decade.
But he's not running for a sixth term in CD 18, rated by FiveThirtyEight as a "toss-up" district in November's elections.
Instead, Maloney is campaigning for the party's primary nod in neighboring CD 17, a Democrat-leaning district spanning parts of Rockland, Dutchess, and Putnam counties where he lives in Cold Spring.
Maloney's calculated maneuver to seek reelection in CD 17 rather than in CD 18 where he had won five elections since 2012 was fostered by May's refashioning of the state's congressional district map by a judge-appointed special master.
Democrats now control 18 of New York's 27 congressional seats. But the state lost its 27th congressional seat in post-2020 Census reapportionment.
A 26-district map adopted for the 2022 midterms by the state's Democrat-controlled General Assembly was rejected as gerrymandering in court rulings, which required a special master to re-craft them in a less partisan manner.
Because the final map wasn't published until May, New York's 2022 primaries were divided into two elections. Preliminary contests between party rivals for statewide positions, such as governor, were staged June 28 with those for congressional and state senate districts set for Aug. 23.
Maloney's decision to run in CD 17 had a ripple effect on other Democratic congressional candidates, including Rep.  Mondaire Jones (D-NY), the district's actual incumbent.
Rather than square off with a fellow incumbent in the suburban district, Jones, a gay Black progressive, is running for reelection in CD 10 in deep blue Manhattan.
Maloney's shift from CD 18 into CD 17 has drawn criticism from fellow Democrats and inspired an energetic underdog challenge by progressive state Sen. Alessandra Biaggi (D-Bronx) in what has evolved into a contentious primary between the party's "establishment" centrists and its liberal left wing.
The Maloney-Biaggi winner will move onto the Nov. 8 general election to face the Republican survivor of the five-candidate GOP CD 17 Aug. 23 primary.
State Assemblyman Mike Lawler (R-Pearl River), a former Orangetown deputy town supervisor and New York Republican Party executive director, is the projected frontrunner among the five Republicans in the preliminary contest.
Other CD 17 GOP candidates include former General Electric executive and Somers Town Board Member William Faulkner; Rockland County Legislator Charles Falciglia; retired advertising executive Jack Schrepel; and Shoshana David, who is seeking to be the first Orthodox Jewish woman elected to Congress.
According to FiveThirtyEight, CD 17 "leans Democratic" but should be competitive for Republicans in November. The Cook Political Report also rates the district as competitive and "leans Democratic." Neighboring Hudson Valley CD 18 and CD 19 are rated as Democratic "tossups" for the general election.
Despite the GOP winner expected to be a viable contender come November, all the campaign heat and noise thus far has been generated on the Democratic side of CD 17's primary slate, which has become a pitched battle between the moderate Maloney, 56, and the progressive firebrand Biaggi, 36.
Biaggi maintains she is among progressive congressional candidates who will "actually be champions for our rights, and not water down things" the way "establishment" centrists such as Maloney do.
Elected to the state Senate in 2019 after upsetting a long-time incumbent in the Democratic primary, Biaggi is a spirited campaigner who opted not to run in CD 3—where she lives in Westchester County—but in CD 17 against Maloney because his "self-serving" maneuver "embodies everything I stand against."
As a state lawmaker, Biaggi supported dozens of bills in 2021 and 2022 that had previously been blocked by Republicans, from bail reform to marijuana legalization to anti-sexual harassment rules. She supports "Medicare for All," a Green New Deal, a proposed "Protecting the Right to Organize Act."
While retaining his Democratic Party bonafides—Maloney sponsored the 2018 New Green Deal bill, is a Nancy Pelosi confidant, and chairs the Democratic Congressional Campaign Committee (DCCC)—he notes in his campaign literature and in stump speeches that he has broken ranks with his party regularly, such as in voting to roll back the Dodd-Frank financial-reform act and to repeal the medical device tax, while backing expansion of a fracked-gas plant in the district.
Maloney opposes many progressive initiatives espoused by Biaggi, including for instance all thus-far proposed versions of
"Medicare for All."
He is universally endorsed by law enforcement and anti-crime groups because Biaggi is vocally critical of police, tweeting in October 2020 that "the police in this country are soulless" as a proponent of the "defund the police" movement.
As a result, the New York City Police Benevolent Association—which supported Trump's 2020 campaign—has spent more than $433,000 opposing Biaggi in support of Maloney.
Collectively, according to its Aug. 3 filing with the Federal Elections Commission (FEC), Maloney's campaign has raised 3.971 million, spent $2.43 million, and has around $2.4 million cash on hand.
He has been endorsed by the state's Democratic Party, Pelosi, former President Bill Clinton, the New York Times' editorial board, and eight key trade unions. He notes he's the only candidate in the Democratic primary who actually lives in CD 17.
Biaggi's Aug. 3 FEC campaign filing reported raising $775,660 in contributions, including $100,000 from a Working Families Party PAC, spending $506,134, and having $269,526 cash on hand.
She has been endorsed by the Working Families Party, Rep. Alexandria Ocasio-Cortez (D-NY), and by CD 17's displaced incumbent, Jones.
Biaggi's campaign has mostly focused on Maloney's concessions to Republicans, accepting donations from Trump-supporting groups, and his role as DCCC chair while switching districts to allegedly seek an easier race.
Biaggi has described the NYC PBA as "an organization that does not actually care about improving how we talk about law enforcement" and called on Maloney to return its campaign contributions until it acts in "good faith" in discussions about police reforms.
She and other progressives have been critical of Maloney and the DCCC for supporting anti-choice Rep. Henry Cuellar (D-Texas) in his Democratic primary and for spending $450,000 in boosting the campaign of Trump-endorsed Michigan congressional candidate John Gibbs, who won his Aug. 2 primary, and is now described on the committee's website as a "far-right extremist" who should be easier for Democrat hopeful Hillary Scholten to defeat in November.
Lawler—who is forecast to win the CD 17 Republican primary and give Maloney, the projected Democratic winner despite Biaggi's loud and aggressive campaign, a competitive race in November—had raised $519,321, his campaign reported to the FEC on Aug. 3.
The Lawler campaign filing showed it had spent $83,733 and had $435,588 in cash on hand less than three weeks before the Aug. 23 primary.
Faulkner's campaign in its Aug. 3 FEC filing reported raising $236,567, spending $38,237, and had $198,331 cash on hand.
The only other CD 17 Republican candidate to file with the FEC was Schrepel, who reported less than $9,000 in contributions.