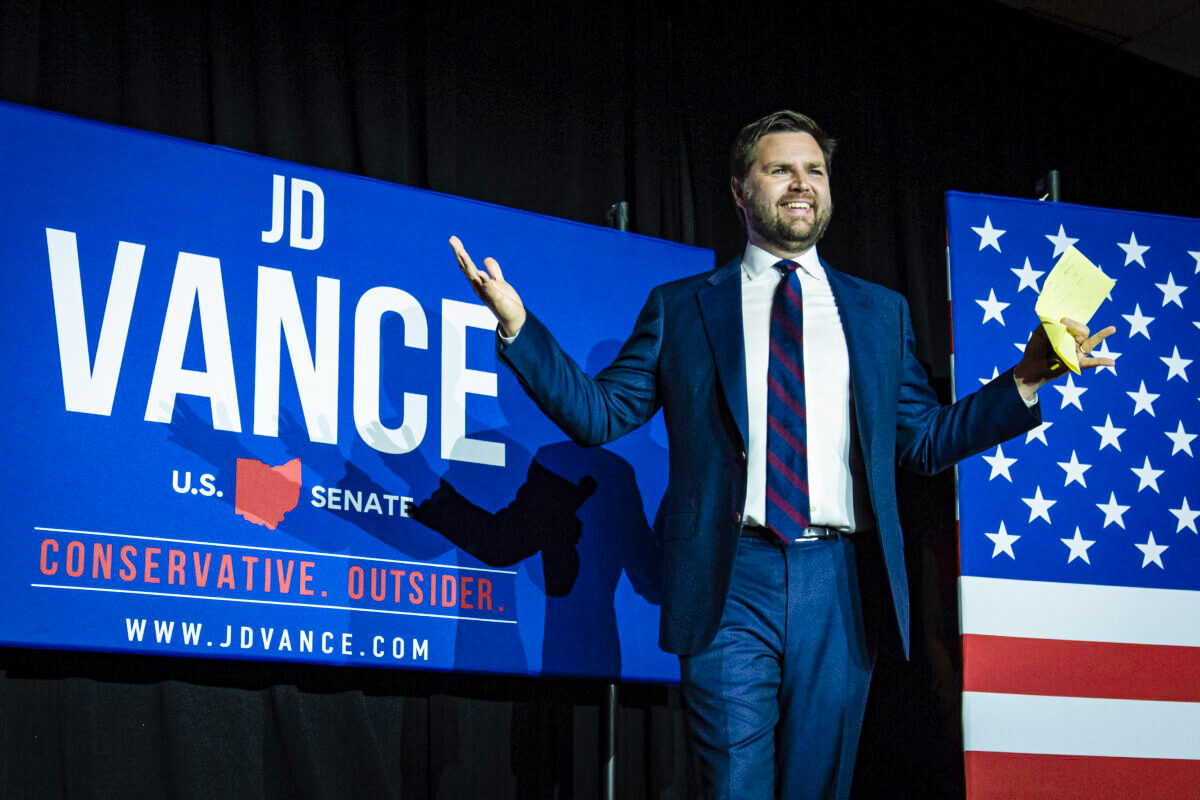 In a television ad last month, Ohio U.S. Rep. and Democratic U.S. Senate candidate Tim Ryan claimed that his opponent, Republican venture capitalist J.D. Vance "wants to defund law enforcement" by eliminating the Bureau of Alcohol, Tobacco, Firearms, and Explosives.
Yet it was Vance who received an endorsement from the Ohio Fraternal Order of Police this week.
Ryan, a 10-term Congressman from northeast Ohio, portrayed himself as a supporter of law enforcement—and Vance as a candidate who does not—in an ad featuring Stark County Sheriff George Maier.
Dressed in uniform and standing in front of a squad car, Maier looked in the camera and said that it makes him angry when Vance "calls law enforcement corrupt" and "that makes my job harder. So does J.D.'s plan to eliminate an agency that combats violent drug offenders."
After Maier's comments, a message appears on screen that says, "J.D. Vance wants to defund law enforcement."
The spot also cited a Feb. 1, 2022 tweet from Vance when he wrote he would "fight to abolish the ATF," which is a federal law enforcement agency that is part of the U.S. Department of Justice.
In the ad, Maier also says that "Tim Ryan knows defunding the police is ridiculous. He's brought back $467 million to put good cops on the street."
Vance, who is endorsed by former president Donald Trump and won the Republican nomination amid a heated primary with seven candidates on May 3, has said multiple times that he wants to terminate the ATF.
Though Ryan is projecting a pro-police stance as part of his platform, he had harsh words for the criminal justice system in America at a presidential candidate town hall at Paine College in Georgia in 2019.
"I believe that the current criminal justice system is racist. I believe in my heart that it is the new Jim Crow, a new version of it," Ryan said at the forum.
He said that "with crimes like marijuana" a "person of color" is "five to six times" more likely to go to prison "than someone who's white."
In a statement after receiving the Ohio FOP's backing, Vance reminded voters of what Ryan said in 2019.
"Tim Ryan, my opponent, called our country's entire criminal justice system 'the new Jim Crow,'" Vance said. "He falsely said police brutality was a leading cause of death for young men in America. He voted in support of the defund the police movement.
"As Democrats' soft-on-crime policies create higher crime rates across Ohio and the nation, we need our political leaders to focus on real solutions instead of engaging in slander for their own political gain, as Tim Ryan has done," Vance added.
At a campaign stop in early July, Vance met with police officers in northwest Ohio to discuss ongoing challenges they face in the line of duty.
"There is a perception that if you grew up in an underprivileged community you do not like law enforcement and at the end of the day, people, if law enforcement is not doing their jobs, communities that are not safe end up struggling," said Vance, who chronicled his childhood and early adult life growing up in rural Kentucky and Middletown, Ohio in the book Hillbilly Elegy.
Vance called Ryan's claim that he wants to defund police "deceptive" and a "lie," and he reiterated why he believes the ATF should be eliminated.
"The ATF has a theoretically useful purpose," Vance said at the law enforcement gathering. "The problem is ATF has gotten so focused on problems that are not a part of its competency. I believe that it will be easier to get rid of the program and replace it than try and reform it."
In a statement issued after Ryan released the ad saying that Vance wants to defund law enforcement the National Republican Senatorial Committee said, "As a 20-year career politician, Tim Ryan's been all over the map on almost every issue. Today's reminder is on defunding the police.
"Ryan went on air today bizarrely attacking his opponent's record on supporting law enforcement and saying that he opposes defunding the police. Did Ryan not look at his own record before making such a false claim?"
The NRCC pointed out, "On March 3, 2021, Congressman Tim Ryan voted against a motion to condemn calls to 'defund,' 'disband,' or 'abolish' the police," referencing the George Floyd Justice in Policing Act of 2021.
Ryan was one of 17 Congressional members who signed a letter dated June 23, 2020 sent to then attorney general William Barr that said police brutality and violence are the leading causes of death among young men, and that black men are three times more likely to be killed by police than white men.
The letter referenced a National Academy of Science article from 2019 regarding the claim.
"We have seen time and time again the institutional bias within our criminal justice system and the continuous increase of deaths by police," the letter also stated.
Ryan later told a Youngstown TV station that "these are not easy conversations, but I have recently spoken to the head of the Ohio FOP and we had a very productive discussion on how we can improve our criminal justice system in America and keep officers and community members safe.
"I look forward to continuing that discussion with the men and women uniform as well as the leaders in communities of color here in Ohio and across the country," Ryan added.
The Ohio FOP endorsed multiple candidates in various races this week, including Vance over Ryan.
"The candidates selected proved their commitment to law enforcement and we look forward to supporting them during the election and working with them on important issues at the state and federal level moving forward," said Gary Wolske, Ohio FOP president.
"We want people who are going to support law enforcement at all times and not just when it's convenient for them."
As of June 28, the Cook Political Report rates the Vance-Ryan race as "lean Republican" while Inside Elections calls it "solid Republican" and Sabato's Crystal Ball defines it as "likely Republican."