Virginia Governor Glenn Youngkin Rallies for Republican Candidate Christine Drazan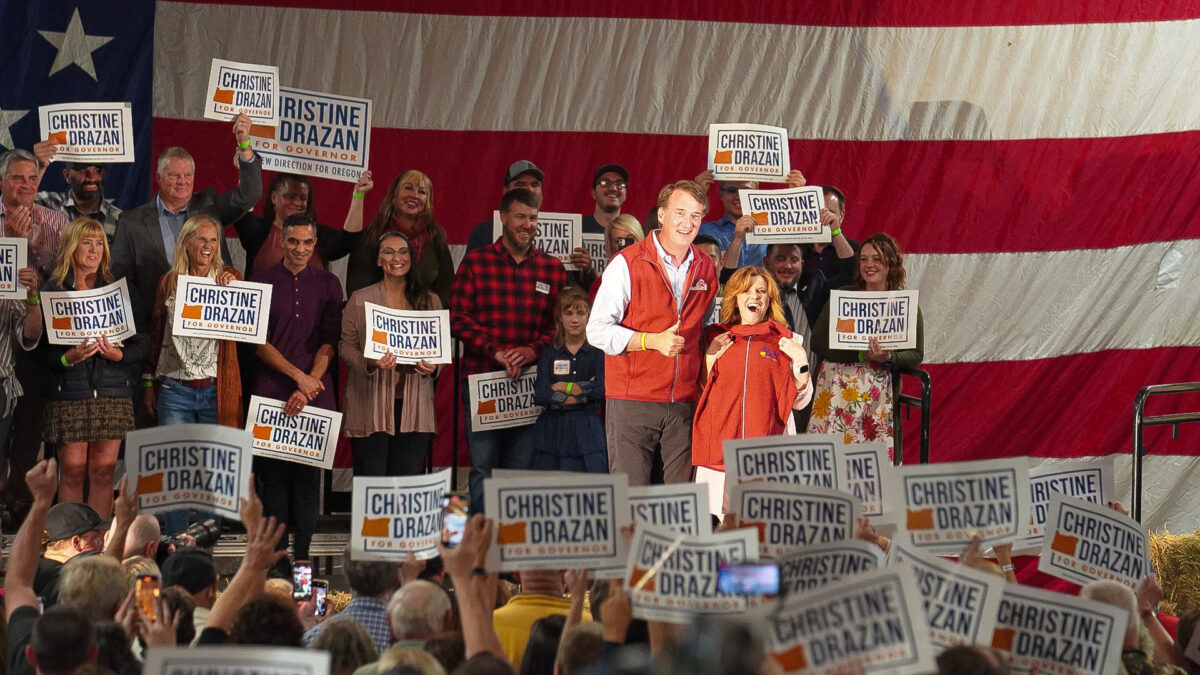 With polls surging in her favor, Oregon's Republican gubernatorial candidate Christine Drazan welcomed Virginia Gov. Glenn Youngkin to a rally in her state on Oct. 18.
"Gov. Youngkin surprised everyone by winning in Virginia by focusing on parents, families, and communities," Drazan told a crowd of more than 2,100. "We have a lot in common with Virginians, including a commitment to change!"
Drazan vowed to get politics out of the classroom, declare an emergency to address the homeless crisis, roll back ballot measure 110 which decriminalized hard drugs, and restore public safety in the state.
She leads in a three-way race against Democrat Tina Kotek and independent candidate Betsy Johnson.
"You've got the Kotek-Biden agenda at work in Oregon, and you can't do anything but shake your head," Youngkin told supporters who gathered in the small town of Aurora 25 miles from Portland. "They are agents of chaos."
At $5.54 per gallon, Oregon has the third highest gas prices in the nation, behind California and Alaska. The price of groceries has soared by 13.5 percent this year, the biggest year over year increase in 43 years.
After some of the longest lockdowns in the nation, its student test scores in math, English, and science, have plummeted. As few as one-third of students statewide reached key benchmarks as they returned to in-person learning this fall.
Oregon leads the nation in homelessness, has a rampant drug problem, and skyrocketing crime, particularly in downtown Portland. 
Youngkin urged voters to choose change. 
"Oregonians are ready for a leader who wants to keep schools open, keep the streets safe, and keep their money in their pockets," he said.
"It's your moment to take back your state, he added. "That's what we've done in Virginia, and it's what Christine Drazan is going to do in Oregon as your next governor."
Youngkin beat out a democratic gubernatorial candidate in the last election, which is the first time a Republican has won a statewide election in Virginia since 2009.
"Nobody thought that a Republican governor candidate could win in Virginia," Youngkin said, "But we stood up last year and it's your turn to stand up now."
Oregon hasn't elected a Republican governor  in 40 years.
Drazan is now leading her Democrat opponent Tina Kotek in four different polls. And she's flush with cash after a recent $1 million infusion from Nike founder Phil Knight and $1.5 million from the Republican Governors Association.
Former Oregon Speaker of the House Kotek is a progressive who is strongly endorsed by labor and public service unions. On Oct. 22, she will welcome Mass. Sen. Elizabeth Warren, a Democrat, for a campaign rally.
Independent candidate Betsy Johnson, who resigned from the Democrat party to make a bid for the governor's seat, trails in the polls but may be siphoning votes from Kotek.
This three-way race will shatter political spending records in the state. 
With three weeks left to go, the campaigns reported spending more than $43 million. That's more than the record nearly $40 million spent by Gov. Kate Brown, a Democrat, in 2018.
Youngkin's visit follows President Joe Biden's trip to Portland last week to stump for Kotek and Democrat congressional candidates.
With ballots now arriving in Oregonians' mailboxes, the candidates hold their final debate on Oct. 19.
On Oct. 20, Johnson will also host a roundtable with Portland businesses to talk about how crime and homelessness have impacted on the city's economy.